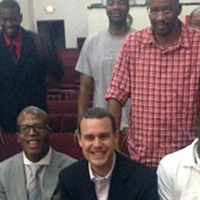 Law student interns with the Investor Rights Clinic (IRC) spend most of their semester-long internship developing and handling securities arbitration claims before the Financial Industry Regulatory Authority (FINRA) on behalf of small claim investors alleging broker misconduct against financial firms. FINRA operates the largest forum for the resolution of securities disputes in the U.S.
In addition to the clinical work on their cases, which provides invaluable hands-on training while serving a largely underrepresented group, student interns each semester are required to conduct a financial outreach project in the community. During the fall 2014 semester, IRC students conducted a variety of outreach programs and, for the first time in the clinic's history, conducted a presentation designed to recruit individuals to become FINRA arbitrators and improve the size, quality, and diversity of the South Florida pool of arbitrators.
On November 7, 2014, second-year students Catalina Rey and Sunny Desai presented at the Association of Certified-Anti Money Laundering Specialists and Association of Certified Fraud Examiners South Florida Chapter AML/Fraud Conference at the Kovens Conference Center at Florida International University. Rey's and Desai's presentations during the conference showcased the IRC and the types of claims it handles, since these professionals are often a source of potential cases.
Rey and Desai also discussed the need for increasing the size and diversity of FINRA's arbitrator pool, which is incredibly important since most investors are required to arbitrate their claims through FINRA. Rey and Desai reviewed the specific requirements for becoming an arbitrator and the FINRA arbitrator application process. Student interns Rachael Williams, J.D.'14, MBA'14, and second-year student Zhen Pan also assisted by staffing a table at the conference and providing information about becoming a FINRA arbitrator. The presentation was a great start to the IRC's new arbitrator outreach efforts.
"I am very thankful that the Investor Rights Clinic provides an opportunity for students to conduct a financial outreach project in the community," said Desai. "Going into that presentation, I was nervous about presenting in front of such a large group of professionals. However, I'm thankful and glad that I did participate in presenting in front of such a diversified group of professionals because it will only help me become a better public speaker in the future. Not only that, my presentation focused on the important subject of the FINRA arbitrator application process, which can hopefully lead to the improvement in diversity in the South Florida pool of arbitrators."
Third-year students Craig Tompkins and Jordan Hadley conducted a financial outreach on November 8, 2014, at the local alumni chapter of the Kappa Alpha Psi fraternity, which took place at a church in Hialeah, Florida. Their presentation focused on an increasing problem in South Florida: affinity fraud. Affinity fraud schemes prey upon members of a network, such as church groups, fraternal organizations, etc. The presentation discussed affinity fraud schemes, including how to recognize and avoid them. The attendees peppered Tompkins and Hadley with questions, and told anecdotes about experiences they have had with these schemes.
"I personally enjoyed the opportunity to speak with individuals in the community, especially since they were my fraternity brothers, about how they could protect themselves against fraudulent acts by broker-dealers, and individuals fraudulently holding themselves out to be broker-dealers," said Hadley. "Unfortunately, some of the individuals that we spoke to during the session had already been scammed by individuals we were referencing during our presentation."
On October 17, 2014, third-year student George Pita and second-year students Jack Korte and Andrea Nickerson made a financial and investment education presentation to the Personal Finance and Introduction to Marketing classes at Christopher Columbus High School. The student team covered a number of topics relevant to high school students, including best practices for acquiring and using credit cards, and building a credit score. They also discussed basic investment types, such as stocks, bonds, and mutual funds.
The team engaged the high school students to think about the relationship between risks and rewards for each investment type, and discussed how they can educate themselves about different securities and investment strategies, and protect themselves from potential scams. They concluded both presentations with a short video from FINRA about investment fraud, and a short clip from the movie Wolf of Wall Street.
On November 11, 2014, second-year student David Newfield and third-year students Nathaniel Touboul and Dan Wolfe gave a presentation to more than 30 undergraduate students on financial fraud, fraud prevention, and an introduction to investing at the Sigma Chi Fraternity House at the University of Miami. The group was invited by a fraternity graduate advisor to speak to a group of undergraduates about types of financial pitfalls they might encounter, and to give them tips on how to avoid them.
The student interns started by discussing broad concepts of investing, such as risk and reward principals, and the types of fraudulent schemes that are likely to occur in South Florida, and also explained useful tools available to the public such as BrokerCheck. They then gave an explanation on the types of broker misconduct that they or members of their families could be victims of, such as churning and other fraud. Finally, Newfield, Touboul, and Wolfe gave the students tips about how to avoid various types of misconduct, emphasizing the importance of statement review, account activity review, and general due diligence.
Because most of the members of the audience had never invested and were not likely to need to use a broker at present, the presentation also focused on educating the students in regard to self-directed accounts. The presentation lasted 30 minutes and ended with an explanation on pump-and-dump schemes college students were likely to encounter via blast emails, and a round of questions.
"Our Clinic is committed to outreach efforts meant to educate investors so they'll avoid problems that would later bring them to us," said Scott Eichhorn, Practitioner in Residence and Supervising Attorney for the Investor Rights Clinic. "Financial education is critical, especially for those with modest means, and often overlooked."
3L Hadley agrees, "I believe that we provided the group valuable tools to prevent being taken advantage of in the future. For me, this component of the clinic was one of the most rewarding, because it gave the students the opportunity to serve in a proactive role by providing citizens information that we have learned in the clinic, instead of in a reactive role when it may be too late to offer individuals assistance."