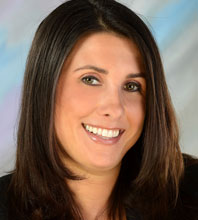 Ask Alison Wiener, JD '03, how she manages to balance professional responsibilities and personal commitments with a desire to give back and she will respond with a simple question: "Have you heard of the Three T's? -- Time, treasure, and talent! When you're first starting out, you donate your time."
She was named a 2014 Community Champion for Deliver the Dream, an organization that provides therapeutic weekend retreats for families experiencing a life-threatening illness or crisis, and has received awards for her involvement with the Make-A-Wish Foundation of Southern Florida. "As you move forward in your career, your time may not be the most valuable asset you can afford to give."
The second T, treasure, represents the ability to support charitable organizations financially. As a financial planner, Wiener stresses the necessity for philanthropically-minded young professionals to budget their annual giving, paying particular attention to employee-matching programs.
The third T, talent, is all about supporting organizations using skills unique to each individual. "Do something that is more hands-on than simply writing a check," said Wiener. "Organize a happy hour to benefit your chosen cause or organization." Her talent for organizing is best recognized in her leadership of the University of Maryland's South Florida Alumni Club. As Board President since 2009, Alison has helped to connect her fellow University of Maryland graduates through a variety of social and philanthropic events.
At Miami Law, Wiener was a Miami Scholar and HOPE Fellow, where she worked at the Guardian Ad Litem program in 2002. Her experience with the HOPE Public Interest Resource Center reinforced her passion for helping underprivileged women and children.
Wiener ultimately brought that passion with her into the world of financial planning. "I love the education and opportunities that being a student at Miami Law provided, but getting a legal education doesn't necessarily mean you have to practice law."
Wiener works with many individuals making important financial decisions at various stages of life. "My law degree gives me an edge. I can better understand what my clients' wants and needs are and help them achieve their goals."