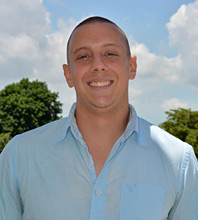 Jack Korte, a 2L at Miami Law, is using his background with environmental law issues to power his law school career.
While pursuing his undergraduate degree at Miami University in Ohio, Korte spent time abroad in both Honduras and Costa Rica, where he developed a passion for Latin America and the environmental issues that the region faces. When he got back to Ohio, he declared Spanish and Latin American studies as his majors.
During Korte's senior year, he participated in a research fellowship that allowed him to create a short documentary about the impact of American fruit companies on Latin American environment, industry, and culture.
"I found that there is a huge psychological impact on a country when a foreign corporation owns a large swatch of their land and exerts massive power and influence in the region," said Korte. "It's easy to lose your sense of national identity and confidence in yourself in that situation."
These findings, along with his other experiences, led Korte to start thinking about law school.
"When I was abroad, I was looking for a way to transform my academic interests into professional pursuits," he said, "so I tried to think of ways that would allow me to interact with third world countries that have a lot of potential, but are just rough around the edges. The best way to do that seemed like law school."
The Miami Scholars Public Interest Program, along with the cultural nature of the city, immediately drew Korte to Miami.
Since coming to Miami Law, the 2L has been able to continue his interaction with other countries. He spent the summer after his 1L year at a law firm in Equatorial Guinea working on legislation regarding the oil and gas industry in Western Africa and assisting with an international arbitration case about mining rights.
Unsurprisingly, Korte now serves as president of Miami Law's Environmental Law Society.
"The environment is the most important thing," said Korte. "It's our world. It's something everyone should be on board with. It just seems like common sense to me."
The Miami Scholar also participates in the Investor Rights Clinic on campus.
"The financial crisis of 2008 and 2009 left a bad taste in my mouth of the financial sector," said Korte. "It seemed like this wild west that impacted every aspect of the economy without any repercussions or oversight. I think brokers and financial advisors should be held accountable for their actions."
He says participating in the clinic has been among his most valuable experience in law school so far.
"In your first year of law school the only way you're engaging with the material is through reading it," said Korte. "It's a nice boost to be able to engage with the actual legal system and to do something meaningful."
Looking toward the future, Korte hopes to work in the public interest in either the energy or financial sectors, but is keeping his options open.
To students looking to pursue public interest work, Korte says, "Don't limit yourself based on what opportunities are presented to you. If you feel something needs to be changed, be proactive rather than waiting for something to fall into your lap."