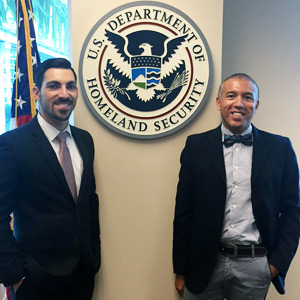 Rising 2L Vincent Calarco understands the power of the law. Prior to beginning his education at Miami Law, Calarco worked as a Social Security Disability Paralegal at a law firm in New York. His work, building files to present to Social Security, showed him that for his clients "illness or injury is not a choice; it is a life sentence that these people deal with. My job was to make their lives easier. The work can be daunting, and a case can stretch out over time, but there was no better feeling than getting an approved decision in favor of someone that truly deserved it." And those wins fueled Calarco's desire to pursue a legal career.
He chose Miami Law first and foremost because he felt comfortable here. "It has been welcoming since I attended the admitted student's weekend." Most importantly he said, "You can create your own path to become the attorney you set out to be here."
This summer Calarco is taking advantage of one of the many opportunities available at the law school by participating in the HOPE Public Interest Resource Center's Summer Public Interest Fellowship available to rising 2Ls. This program has two components: taking a class where students meet twice weekly and participating in a practical experience in a public interest field. For Calarco, that means a summer with the Department of Homeland Security working specifically with the Immigration and Customs Enforcement Division.
The placement has worked out wonderfully for Calarco as he has already sat first chair in three cases. He is representing the Department in court, cross-examining witnesses, and making arguments before the judge.
"I was able to become comfortable and find my voice," said Calarco. "This experience allowed me to learn how to litigate, but also gave me the confidence to know that I can litigate effectively."
He has also learned the method behind the enforcement of immigration laws. "The Department goes for those who are a real threat, have a criminal record, and continue to be a threat to the public. The mission is not to deport all illegal immigrants, but to deport those who are a threat to our lives." That mission has led Calarco to collaborate with Catholic Legal Charities in their efforts to help illegal immigrants gain status.
The extent of Calarco's work this summer and the success of this placement may be in part due to how the Department handles summer interns. Assistant Chief Counsel and Legal Intern Coordinator for Immigration and Customs Enforcement Richard Jurgens, JD '03, said his Department pairs each summer intern with a mentor for the summer. "Mentoring gives the student an opportunity to work closely with a particular attorney and we encourage the student to go to their mentor with any questions they may have," said Jurgens.
Going forward Calarco isn't yet sure what area of law he will practice, but he said his interning in public interest this summer has been important. "An experience working for the government or in public interest allows students to see firsthand what are some real issues that people are dealing with."
Jurgens agrees, "The most important aspect of a government or public policy internship for the student is exposure." But he adds, it's not just exposure to clients and issues, but "the process and ... how the public sector functions in the realm of the law." An added bonus of a public interest fellowship Jurgens pointed is that "most attorneys in these fields do not have to do billable hours. I think it allows for attorneys to spend more time teaching the students."
That extra feedback may just be what has made Calarco's summer so successful and provided him with practical lawyering experience before he's even begun his second year of law school.