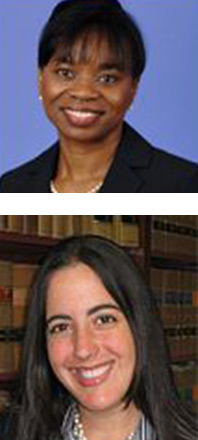 Abigail Price-Williams, J.D.'84, has been appointed Miami-Dade County Attorney. She follows in the footsteps of Victoria Méndez, J.D.'99, who was appointed in 2013 to lead the City of Miami Office of the City Attorney. The appointments mark the first time both offices are lead by Miami Law graduates and women.
According to the announcement in The Miami Herald, Price-Williams joined the county attorney's office in 1990 and led the legal team overseeing Miami International Airport and Jackson Hospital. She was appointed first assistant county attorney in 1990. She is not only the first woman to serve as the top cop for Florida's largest local government, but first African American. Before joining the county attorney's office, she was an Assistant State Attorney for the 11th Judicial Circuit.
Méndez, a triple 'Cane, also holds a Master of Public Administration and B.A. in English and Political Science. She joined the city attorney's office in 2004 as the municipal prosecutor and went on to become Deputy City Attorney. Prior to joining the City Attorney's Office, she was a prosecutor in the Miami-Dade County State Attorney's Office.