Cliff Friedman, Sharon Booth, and Pro Bono Challenge Winners Ronald Sou, 2L, Danielle Colombo, 3L with Marni Lennon
The Miami Law community gathered recently to recognize those outstanding students who have excelled in public service throughout the 2014 -2015 academic year.
Hosted by Miami Law's HOPE Public Interest Resource Center, the Center for Public Ethics and Public Service, Clinics, and STREET Law, the annual reception gives students the opportunity to mingle with attorneys, faculty, and alumni.
Dean Patricia White made the opening remarks, highlighting Miami Law's strong pro bono ethic and the remarkable student participation in community and public service activities.
Keynote Speaker, Richard Milstein, JD '73, spoke extensively on the importance of law students and attorneys serving their communities even while in the private sector.
Marni Lennon, HOPE director and Assistant Dean for Public Interest and Pro Bono, presented the HOPE Commitment and HOPE Pro Bono Challenge awards to a student in each class who completed the most community service and pro bono hours, respectively.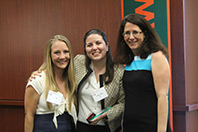 The recipients of the HOPE Commitment community service awards were 1L Jessica Brautigam, 2L Roberto Pecchio, and 3L Trinity Jordan. The recipients of the HOPE Pro Bono Challenge awards were Ronald Sou, 2L, and Danielle Colombo, 3L.
"We were thrilled to recognize the students who have gone above and beyond and achieved the pro bono challenge, completion of 75 hours of pro bono work," said Lennon. "These students make the choice to give back through pro bono work in agencies locally, nationally and internationally without receiving credit or compensation. Each year, more and more students meet the challenge. It is a testament to the shift in campus culture at Miami Law and couldn't come at a more important time, as our community faces an ever-increasing access to justice gap."
The presentation of awards alongside notable attorneys, faculty, and alumni provided students with the inspiration they needed to confidently prepare for their public interest summer internships.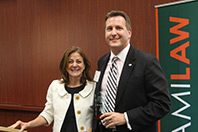 "It was great to see so many of my fellow classmates that have dedicated their time here at Miami Law to giving their valuable time and talents to the betterment of our society," said Trinity Jordan. "The award is just a symbol of our law school community, a community I was blessed to be part of."