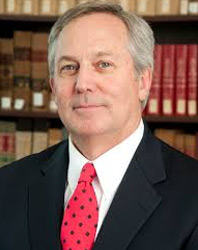 Henry N. Butler, JD'82, has been appointed dean of George Mason University School of Law, in Arlington, Virginia. Butler has been serving as the George Mason University Foundation Professor of Law and Executive Director of the Law & Economics.
At Miami Law, Butler was a John M. Olin Fellow in the Law & Economics Center under Professor Henry Manne. Butler would later be appointed by Manne to lead the center at George Mason.
Butler is a prolific law and economics scholar who has devoted much of his career to educating judges, lawyers, and public policymakers in law and economics. He has held academic appointments at Texas A&M University, the University of Chicago Law School, the University of Kansas Schools of Business and Law, Chapman University Schools of Business and Law, and Northwestern University School of Law, according to his profile.
The Virginia native began his teaching career at George Mason University School of Law in 1986. He was also the executive director of the Searle Center on Law, Regulation, and Economic Growth at Northwestern University School of Law, the James Farley Professor of Economics in the George L. Argyros School of Business and Economics at Chapman University in Orange, California as well as Director of the Judicial Education Program at the AEI-Brookings Joint Center for Regulatory Studies.
In 2003, Butler ran for the newly created Virginia Congressional Seat campaigning on lower capital gains tax and tax credits for small businesses and research companies. He is the son of the late Congressman M. Caldwell Butler of Roanoke. Butler earned his B.A. in Economics from the University of Richmond, and his M.A. and Ph.D. in Economics from Virginia Polytechnic Institute (now known as Virginia Tech).