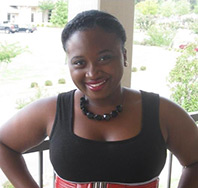 Born to a Nigerian-American father and a Creole mother from Louisiana, 2L Kemi Ijitimehin was selected for a prestigious summer internship with Bristol-Myers Squibb in New Jersey, where she will work in the Trademark & Copyright Department. Ijitimehin is the second Miami Law student to be part of the Bristol-Myers Squibb competitive summer program.
"The program is intended to provide students with a unique opportunity to work in a corporate law department of a premier global BioPharma company," said Ijitimehin.
Ijitimehin came to Miami Law from Athens, Georgia in pursuit of fulfilling her longtime dream of entering the legal profession. Prior to attending to law school, she attended the University of Georgia and majored in Psychology.
It was through a work-study program at her high school that allowed her to work at a law firm, and ended up being an opportunity that extended into her undergraduate career and confirmed that she wanted to study law for graduate school.
Today, Ijitimehin is actively involved at Miami Law, serving as the President of the Black Law Students Association, legal intern for the Health Rights Clinic , member of the Race and Social Justice Law Review, and member of the Society of Bar and Gavel.
She has also interned for the Honorable Donald Graham, and clerked for Malloy & Malloy, PL, an intellectual property law firm. While in law school, Ijitimehin also had the opportunity to appear on Community Voices on the radio station 99Jamz! to discuss issues regarding the 2014 Election.
"All of my experiences have taught me the true value of hard work," said Ijitimehin. "I have learned the true value of relationships with my peers and others in the legal community and that above all else [my Miami Law experience] is an experience that will remain with me forever."