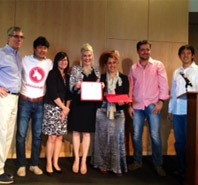 Sarah Klein and her team took first place at last weekend's inaugural MITx Global Entrepreneurship Bootcamp Competition with Klein's original pitch "UpLook, A Startup Concept to Turn Fashion Blogs into Retail Outlets."
Charged as a Miami Law Student Development Director to help students think about their futures, Klein is also always thinking forward as a lawyer. "Given the challenging job market, there is a great opportunity for legal innovators," she said. "Turbulence creates great opportunities for success. I want to encourage law students to adopt a more entrepreneurial approach to their work – to drive innovation, change lives, create jobs, and fuel growth. Innovation and agility are vital to the success of our globalized economy and entrepreneurs matter now more than ever. My experience at MIT has reinvigorated me to share this message with my students."
Klein was one of 54,856 students to enroll in an online course out of MIT's edX last spring "Entrepreneurship 101: Who is Your Customer?". MIT's edX was an experiment in blended learning, looking at reshaping existing educational paradigms, according to MIT. Bill Aulet, managing director of the Martin Trust Center for MIT Entrepreneurship, taught the course. The program brought together students to study how to create a startup company.
Nearly 600 students would go on to apply to be considered for the bootcamp, 220 candidates would be interviewed and, in the end, only 47 were selected to travel to Cambridge, Massachusetts to participate in a one-week bootcamp and competition; they included a medical doctor, a technical director of Halo 4, an Olympian, and Klein.
All 47 students, from 22 countries, presented their ideas for startup companies, and of those, only nine survived through elimination. 47 pitches were cut to 20, then 20 down to nine. All those eliminated then joined into teams with the nine survivors and Klein's original pitch was one of the nine chosen.
For the rest of the week, the teams began 20-hour days of honing and refining their most convincing business idea. Klein's team included members from India, Australia, England, Mexico, and California. The final pitch presentations were judged by three prominent venture capitalists. Klein and her team won first place.
"You take a course. You learn the material," said Sanjay Sarma, Director of the Office of Digital Learning at MIT. "Then, you come here and you participate in the magical experience and you get value out of it. I'm over the moon to see that we can actually share this experience [with people] who might not have that opportunity."
Runners up were ONBO, a personal consulting startup and Elio, a startup to sell data collected by drones to Brazilian farmers. Right after the bootcamp ended, two teams indicated that they will continue working on their startups that were incubated at the bootcamp.
"It was an incredibly creative and a remarkable experience not just for the students but for all of us involved at MITx and edX," said Anant Agarwal, CEO of edX. "We had an amazing group of students. They were extraordinarily inspiring. They are what makes us want to get up in the morning and do what we're doing."
When Klein submitted her pitch idea in hope of participating in the program, she never imagined that her idea or team would take first place. "Attending MIT was an extraordinary experience," she said. "My fellow students in the program are doing work that is changing the world. We left the program, individually and collectively, with the confidence we had an MIT education guiding us. We have new work to do, thanks to our MIT experience. I can't wait." She said that the MIT faculty members and mentors brought out the best in everyone both as teams and as individuals.
"This week I worked with students from every corner of the earth," said Adam Blake, Co-Founder and COO at ThriveHive, who served as one of Klein's bootcamp mentors. "They aren't from the entrepreneurial hotspots in San Francisco, Boston, and New York; instead they are almost exclusively from places other than those major meccas. They come with different perspectives and ideas and I believe they will leave the program with an improved skill set that will help them cross the entrepreneurial chasm of failure in their own places of origin. If that starts to happen – it is a really big deal."
Klein is one of three Student Development Directors for Miami Law's Student Development Program, which provides law students with one-on-one support through advice, in-depth advising and guidance based on each student's individual needs.