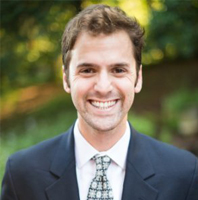 Andrew Rubin, JD '14, has been selected by the Sea Grant program of the National Oceanic and Atmospheric Administration to receive a John Knauss Marine Policy Fellowship in 2015. The fellowship provides a unique educational opportunity to pursue interests in fields related to ocean, coastal and Great Lakes resources and in the national policy decisions affecting those resources. The program matches outstanding candidates from each state with "hosts" in legislative or executive branch offices located in the Washington, D.C. area, for a one-year paid fellowship.
Rubin sees this as a huge step in the pursuit of his passion for ocean and environmental law and policy. "It started with spending a lot of time as a child on the Chesapeake Bay and since then it has only grown in complexity and dedication," he said. "I am extremely fortunate to be able to pursue my passion, especially right now, which is such an interesting time for marine affairs. I am elated."
During his years at Miami Law, Rubin was twice the president of the Maritime Law Society, organized and participated in Admiralty Law Moot Court Competitions, hosted talks about underwater cultural heritage, interned with the legal offices of both the National Oceanic and Atmospheric Administration and the U.S. Coast Guard, and also found the time to participate in coastal cleanups.
He was a recipient of the CALI Excellence for the Future Award for achievement in the study of Marine Ecology & The Law and also worked with the Ocean Conservation group Oceana on several occasions.
Rubin served as research assistant to Professor Bernard H. Oxman, who directs Miami Law's Maritime Law LL.M. Program and is a widely recognized expert on the international law of the sea.
After a week-long placement process in mid-November, the fellowship is set to start in February 2015 and continue until the end of January, 2016. Professor Oxman will serve as Andrew's Faculty Adviser during the fellowship.