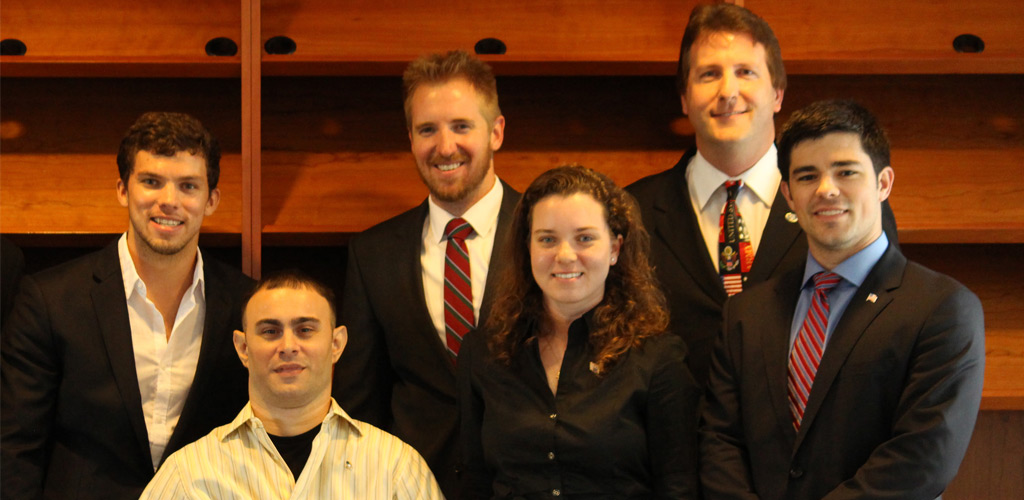 Chris Kuhn, Felix Perez, Robert Klock, Stephanie Hocke, COL Noel Pace, Nick Esser
Miami Law's Military Law Society held a discussion panel on Thursday, September 11, to commemorate the memory of the victims of the attacks on U.S. soil and the fallen comrades in the conflicts in Iraq and Afghanistan.
Robert Klock, President of the Military Law Society, veteran of the Iraq campaign and the Global War on Terrorism, presided over the panel that included an eyewitness to the attack on the World Trade Center, and two young combat veterans. The discussion included looking back on the events of September 11, 2001, and the subsequent wars from a first-person point of view.
Also on the panel were Christopher Kuhn, and Felix Perez, both UM undergraduates and veterans of the Iraq and Afghanistan campaigns.
"It is very important to have events like the one we had with the Military Law Society in order for younger generations never to forget the one and only true reason why we went to war," said Perez, Veteran Student Organization (VSO) events coordinator who was a Sergeant in the U.S. Army Rangers on 9/11. "To draw attention to the suffering of so many innocent people and everything our servicemen and women did won't bring back the dead and wounded but it will forever keep their memories alive. We need to acknowledge what they have done overseas, often in the most remote places, in order to assure our way of life."
Perez said he remembered after 9/11 feeling "ready to perform his duty as the President's elite Police rapid response force," and began preparations for an immediate deployment. He was overseas by December.
"Events held on Sept 11th remind people that there are still very evil people in the world ready to do us harm," he said. "It's so important to remember that we are never safe and must always remain vigilant. When tragic events like this occur, it unites the people of this country. We put our differences aside and come together with a common goal as One Nation Under God. I feel honored to have been part of such an occurrence and it was truly a great experience. I hope that we can continue this for years to come."
Kuhn, who is President of VSO at UM, served as a Navy Corpsman in a Marine Corps unit in Iraq. "This discussion panel was an amazing experience," he said. "Being able to give insight into the lives of deployed military and reintegrating veterans is a tremendous privilege. It is our goal, as veterans, to keep the stories of our comrades alive for those who were not there and to pave the road for the veterans making their way back into society today. The turnout for this panel just goes to show the pride in this country and it's fighting force."
In addition, Perez shared his own personal challenges of returning home as a combat veteran and talked about daily life overseas in a forward operating base. He recalled life behind enemy lines in Iraq, and the struggle of dealing with the heat, the constant threat of attack from snipers, Improvised Explosive Devices, ambushes, as well as the lack of food, access to running water, and clean clothes.
Both Kuhn and Perez discussed examples of their camaraderie with their fellow service members, and their devotion to completing their mission, always allowing them to prevail over the difficulties they faced.
Klock, a 3L, witnessed the attack on the World Trade Center during his second period art history class in high school. "I knew at the time, I was too young to do anything about it, but one day I would be a position to perform my duty. Witnessing the events of that day and its aftermath weighed heavily and was responsible to my joining the Coast Guard right out of college," he said.
Receiving a commission with the United States Coast Guard as an Ensign, Klock was assigned to an anti-terrorism and counter-piracy unit stationed in New York City that was formed as a direct response to the 9/11 attacks. He was later stationed in Iraq and performed anti-piracy operations off the coast of Somalia in the Gulf of Aden.
Other attendees and veterans discussed their current activities. 3L Noel C. Pace announced the formation of the Student Veterans of America (SVA), Miami Law Chapter. Pace who is a Colonel in the U.S. Army Reserve, Iraq campaign Veteran, and Equal Justice Works/AmeriCorps JD Veterans Rights Fellow in Miami Law's Heath Rights Clinic, said this official chapter of the SVA national organization will bring veteran-law students and non-veteran law students together for fellowship and mentorship in the common goal of advocating for Veteran's rights.
The 9/11 discussion panel gave attendees the unique opportunity to see and listen to former soldiers, who have completely re-integrated themselves as productive, high-functioning members of our society, as they recounted their experience of military service without dwelling on the issues of PTSD and violence commonly associated with veterans in the U.S. Perez and Kuhn are committed to helping "new returning vets not to go through the same reintegration issues we had," said Perez.
"We are happy to see new foundations being established to help vets and the continued support needed from civilians in any measure."
---
For More Information on the SVA:
The first organizational meeting of the Student Veterans of America (SVA) will be on September 29, 2014, and the first panel discussion will be held on October 23, 2014. All interested law students, faculty, and administration members are encouraged to join the SVA, Miami Law Chapter's OrgSync page.