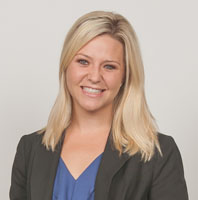 Hometown girl Jenna Winchester, J.D.'14, has always been an exceller so it's not surprising that she is serving a judicial clerkship to Judge Roy B. Dalton, Jr., in the United States District Court for the Middle District of Florida.
Winchester's resume needs a smaller font and thinner margins just to fit the highlights: top 10% of her class, President of the Student Bar Association, member of University of Miami Law Review, member of the Charles C. Papy, Jr. Moot Court Board, four-time Dean's Fellow, Student Trustee to the UM Board of Trustees, chair of UNetworking, and a Book Award in Legal Communications & Research, just to name a few.
"Between the incredible faculty and administration, encouraging professors, and supportive alumni, Miami Law opened doors that I never imagined would be available to me," said Winchester. "Although I worked very hard for my success in law school, it would be foolish of me to suggest that I would have this position without the help of those associated with Miami Law. I was never convinced that I wanted to pursue a clerkship, but my professors, counselors, and mentors encouraged me to step outside of my comfort zone and apply for something that I didn't think I could attain; now, here I am, doing some of the most intriguing, diligent, and educational work I may ever do."
Winchester grew up with a stronger work ethic than most. Having been raised on a "farm" by her mother and veterinarian father, Jenna's chores included looking after their more than fifty pet animals, including goats, cows, deer, wallabies, and a buffalo. And she shares her parents' love of wanderlust, having traveled to five continents, including Africa where she took safaris and hiked with gorillas.
Winchester's ambition shined through early on. While in high school, she founded Kids2Kids, Inc., a non-profit that raised over $50,000 for children's charities through annual shows that she produced. She continued Kids2Kids through her undergraduate years at the University of Florida, where she graduated summa cum laude with a B.A. in Criminology.
In addition to her academic achievements, Winchester interned for Judge Alan S. Gold in the Southern District of Florida, interned for the General Counsel of the Miami Dolphins, and was a summer associate at Gunster, Yoakley & Stewart, P.A. in West Palm Beach, Florida. Only a few months into her two-year clerkship, she is very excited for what the future holds.
"Honestly, words cannot express how inspiring the judges and the other clerks are that I get to work with on a daily basis and how life-changing this position is," Winchester said. "I am blessed, humbled, and beyond gracious for this opportunity and am so thankful for the relationships I built at Miami Law that helped me get here."