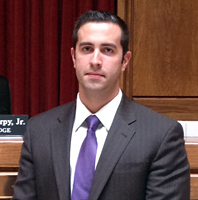 Alexander R. Vail is a double 'Cane having graduated with a B.A. magna cum laude in 2011 with degrees in Political Science and History, and, this past May, again magna cum laude with his J.D. from Miami Law. Now he is putting all his education together with a clerkship at the U.S. Department of Justice Executive Office for Immigration Review.
During his time at Miami Law, the bilingual (Spanish) Lauderhill, FL native prepared by interning for the Honorable Adalberto Jordan at the U.S. Court of Appeals for the Eleventh Circuit, at Miami Law's Immigration Clinic representing clients in removal proceedings, and researching and drafting pre-trial motions for the Broward County Public Defender, all the while serving as a First Lieutenant with the Florida Army National Guard based in Immokalee, Florida.
"The legal education and experience I received at Miami Law made it possible to secure my clerkship at the Executive Office for Immigration Review (EOIR)," said Vail. "I am most grateful for my professors who not only taught me how to read, write, and analyze the law, but also taught me how to be a lawyer. By clerking for EOIR, I look forward to further developing the critical skills needed to succeed in this noble profession." Vail received the CALI Excellence for the Future Award three times at Miami Law: first for Public Interest Law & Leadership in 2012, then for Comparative Law and for Advanced Immigration Seminar in 2014. He was awarded the Dean's Certificate of Achievement in Evidence at Miami Law, as well as University of Miami Departmental Honors in Political Science as an undergraduate. He also completed the Army ROTC program as a Distinguished Military Graduate in 2011.
Miami Law Dean Patricia D. White has just elected him to the Order of the Coif.
"Alex was a top student in the Immigration Clinic and I am thrilled that he landed this competitive clerkship," said Professor Rebecca Sharpless, Director of the Immigration Clinic. "The experiences will jumpstart his career, no matter what area of practice he ultimately chooses."