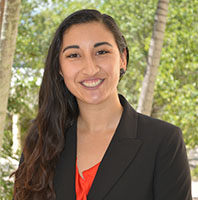 Through a partnership created by the HOPE Public Interest Resource Center, two Miami Law students – Carolyn Kirkland and Andrea Martinez – have joined the board of The Women's Fund of Miami-Dade.
This is the first time students have ever been permitted to serve on the board. They will begin in October and have the opportunity to participate in the mission of the Women's Fund, which is to empower women and girls through advocacy and funding for innovative initiatives that build equality, foster social change and create community partners.
"Miami Law is proud to celebrate the leadership and engagement of our students who will continue their dedication to the Women's Fund through service on the Board," said Marni Lennon, Assistant Dean of Public Interest and Pro Bono. "These students are the first-ever student board members with the Women's Fund and we look forward to a long collaboration to address the needs of women and children in our community."
Kirkland, a third year law student, is Staff Editor of the Race and Social Justice Law Review and a member of the Society of Bar and Gavel. She has served as a judicial intern for the Honorable Maria Korvick in the 11th Judicial Circuit Court of Florida and was a research assistant for Professor Kele Stewart.
Martinez, also a third year student, is a HOPE Fellow and a historian for the Student Bar Association. She has served as a legal intern for the U.S. Department of Education, Office for Civil Rights, a law clerk for Legal Service of Greater Miami, and as a judicial intern for the United States Bankruptcy Court for the Middle District of Florida.
"In today's day and age, women and girls still do not have equal access, opportunity, and influence," said Martinez. "Being named to the Board of the Women's Fund means being able to play an active role in bettering the lives of our community's female population. Not only am I honored to have the opportunity to work with some of the most philanthropic women in South Florida but also take great pride in the Women's Fund's past, present, and future work."