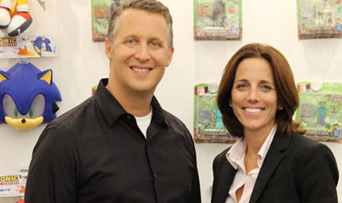 When Laura Cohen was a little girl in Boston, her favorite toy was the Fisher-Price School House. She lugged the School House everywhere, even through airports with its bell ringing, despite its lack of a handle. Meanwhile, Judd Zebersky was a busy young entrepreneur – first as a 10-year-old paperboy slinging Newsday on the lawns and porches of Oyster Bay, New York, later as a high schooler with his own boat cleaning business with 30 employees.
His profits would feather his expanding comic book and baseball cards nest – categorized, of course.
Both would move around a bit – Laura's family following her father's sales jobs – 13 moves before landing in South Florida at the age of 12; Judd's mostly living in Oyster Bay, New York during his formative years.
Judd's stepfather was in the toy business and took him and his brother, Eddie, to the New York Toy Fair, the largest toy fair in the Western Hemisphere, in the 1970s. "We loved that experience," he said. "And I loved the whole idea of being involved with toys way back then."
Laura did her undergrad in Justice at American University in Washington, D.C.; Judd at the University of Massachusetts Amherst graduating with a degree in Business Administration. Both would arrive at Miami Law in the fall of 1990 with unique skill sets.
Laura had worked in retail women's clothes through high school and college. "I always thought I was going to be the CEO of Macy's. I'd been in retail, I was good at selling, my father had been in the retail business," the petite, easy-going brunette said. "I thought that is where my path was.
"One day early in college I sat down with my dad – I was the first person in my family to go to college, let alone law school – and at that point he was a head hunter, an executive recruiter," the J.D.'93 said. "His career was trying to figure out what people should do with their lives. He said, 'well, you are good at talking, you are good at English, and you are an arguer. I think you should go to law school.' And I listened to him." To her, the sliding door made perfect sense from CEO to barrister.
At that time, law was more a culture reference to Laura. "Trials were just starting to be shown on TV, my knowledge was pop culture based. I didn't have any family members who were lawyers, I didn't know anyone who was in jail or imprisoned. We just thought it would be a good fit."
But both Laura and Judd would find themselves at the Rathskeller for the University of Miami School of Law on Orientation Day on August 26, 1990. They were friends at first sight and dating by fall break.
"We just instantly became friends," she said. "Within a few months, we were a couple."
Law school was a good fit for Laura. "I really enjoyed law school and enjoyed practicing law while I did practice."
Laura had a taste of law while still in college working in the administrative division of bankruptcy court, "so I thought for sure I would be a bankruptcy lawyer," she said. While at Miami Law, her first job was with Miami criminal attorney and former Deputy Chief Assistant State Attorney to Janet Reno, Samuel J. Rabin, Jr.
"It was really one of the best experiences; he allowed me to argue in federal court," Laura said. "He exposed me to a good understanding of criminal law." It also helped her decide to pursue other avenues of the practice of law.
Judd, always looking to find a moneymaking niche, put together a company with Laura at the end of their 1L year: Legalese. They opened an office in Coconut Grove doing case analysis and legal research for a fee.
They married soon after they passed the Bar. Laura would go to work for a sole practitioner – the old school kind who handled all the legal business for the neighborhood. "My first week I was in court on a divorce case and a DUI," Laura said.
Judd immediately opened his law firm and soon after was joined by his brother Eddie, J.D.'91, and another classmate, Stacey Giulanti, to form a boutique firm, Zebersky, Zebersky, and Giulianti, focusing on plaintiff insurance cases. After two years, Laura would also join the firm (although they would eschew the third "Zebersky" on the shingle).
Not surprisingly one day in 1996, Judd decided to step off a cliff à la Wile E. Coyote. "I'd like to go into the toy business and start a toy company," Judd said to Laura. Her response? "Go for it." She might not have realized with those three words, Judd would spend most of the next six months on a toy exploration adventure in China.
"I've always been a comic book geek and I've always been enamored with toys," Judd said. (Much to his dismay, his mother cleared out his voluminous collections of comic books, baseball cards, and G.I. Joes when he left for college.) "But it's more than just the playing of toys; I've enjoyed the make of toys."
In Judd-like fashion, he headed to the land of toy manufactures and learned all there was to know about toys.
"I went to remote places in China on dirt roads where entire families get around on a single motorcycle. Many times I was the only Caucasian they had ever seen," he said. He visited toy factories throughout the south of China learning the difference between injection molding and blow molding to rotocasting. He learned how the best hair was rooted, and immersed himself in the design and engineering of toys.
"I made friends with a lot of the factory owners and I learned how to make toys," he said. "I'm a hands-on person. The only way I would embark on a new career is by truly understanding every part of the process, and that is what I did."
One of the first toys was a 3D Sipper cup in the shape of famous WWF (now WWE) wrestlers, which resembled figures with a big straw coming out of their heads. Laura would join the seven-year-old toy company as EVP of Sales and Licensing. They grew year-by-year, Christmas-by-Christmas, with a few bumps along the way. Judd quickly learned that directions to factories needed to be exact or else problems would surely follow. (Early on, a factory misread the specs for a plush character that was obviously supposed to be made in 3D, but the factory only looked at the 2D picture on the spec sheet, making it two dimensional instead of three. "They looked like pancakes, literally," Judd said. "Thirty thousand pancakes. We were hysterical because it was the funniest thing in the world, but not sellable.")
They safety tested all their toys long before it was the industry standard or even required. "My kids played with those toys," said the tall, blue-eyed CEO. The couple strongly believes in what should be called toy tithing. They've always given toys to charity. In 2013 alone, they gave 40,000 toys away, although like good lawyers, there is a codicil. "We give them to anybody in need," Judd said. "One of the things we try to make sure is that the children who receive them have a good attendance record in school. Toys are supposed to be a reward for kids who try."
Laura and Judd made toys that they would have liked – the playhouses grew handles, and their daughter asked if her dad would help her build a dollhouse, which grew into a mini-version of Rooms To Go named Room by Room, with daughter Elysa on the packaging. When their son was mad for the videogame Minecraft, they acquired the license to their action figures, plush toys, and papercraft.
So even though two lawyers make a living playing with toys, Miami Law played an enormous role in their lives. "Law school allowed me to think differently than I did previous to law school," said Judd. "It made me more organized. It made me understand how to look at the big picture and then dissect it into pieces. This is very important in the toy business because even through you see a product that is beautiful on the shelf, in order to achieve your goals, you must be able to understand all the parts of the products and all the steps you have to go through to get there."
Today the company holds top licenses and manufacturers over 1,000 items in any given year, has offices worldwide located in Florida, Bentonville, Hong Kong, China, Germany, and London and employs over 100 people. The company headquarters in Sunrise, Florida feels like a mini version of a Google campus with chalk board walls and glass partitions festooned with sketches, equations, and slogans; kitchens stocked with beverages, jelly belly candies, and bars; and a play area with a basketball court, ping pong table, video gaming center, foosball, and rod hockey. Obviously there are toys everywhere, including the "vault," that holds two of every toy they've created in the company's seventeen years. "The War Room" is a big conference room with the ability to connect with all the other offices and factories, and floor to ceiling toys on every wall. It may well be the second happiest place on earth.