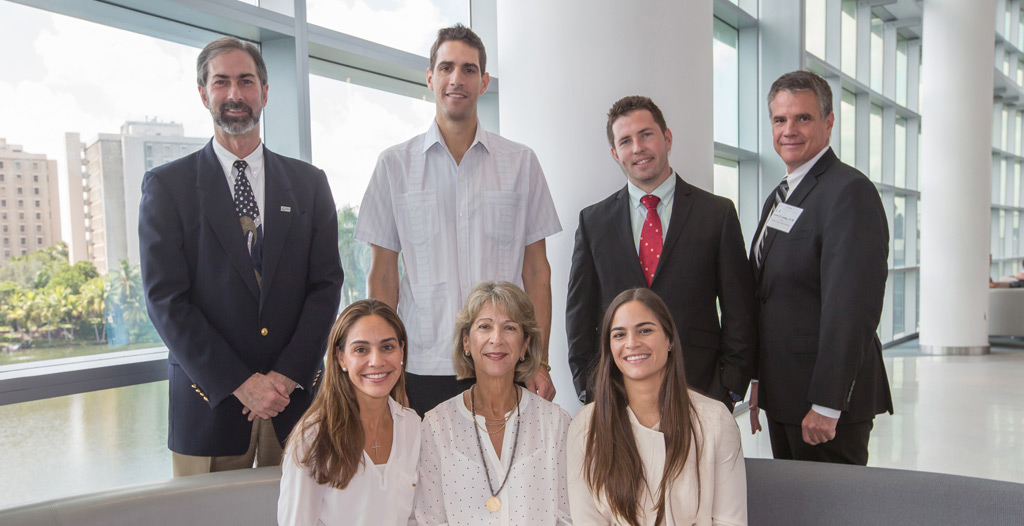 Seated: Caro Portocarrero, Maggie Vazquez-Bello, Patty Vazquez-Bello; Standing: David Schwartz, Luis Vazquez-Bello, Tanner Forman, Clint Losego 
Clemente Vazquez-Bello, J.D.'74, passed away in 2013. The Havana, Cuba born attorney was a double 'Cane, an enthusiastic fan of all sports UM, and a Golden Cane.
At Gunster, he was a senior partner and member of the Board of Directors and widely recognized for his expertise in support of domestic and foreign financial institutions. He was a member of the Bank Secrecy Act Advisory Group of the Financial Crimes Enforcement Network of the U.S. Department of the Treasury.
To honor his legacy, his family established an annual scholarship for a third year student specializing in banking and corporate law. Last week at Miami Law's annual Donor Scholarship Luncheon, the Vazquez-Bello family met Tanner Forman, this year's recipient.
This year alone, 112 donor scholarships were awarded to 123 students in the School of Law.
"It was a real pleasure for me to meet the Vazquez-Bello family and learn more Clemente Vazquez-Bello," said Forman. "It is an honor to receive a scholarship in Clemente's name and I am glad that I had the opportunity to meet such an incredible family."
Forman, a native of St. George, Utah, was convinced to attend law school by his twin brother, who was working at a law firm at the time. They applied together with the idea that they would start their own firm after graduation. Though his brother changed his mind and went into banking, Tanner had already embraced the idea, committed to Miami Law, and hasn't looked back since.
"I'm glad that he convinced me to become a lawyer and I can't imagine doing anything else," the 29-year-old said. "This scholarship will benefit me as I finish my last semester in law school. I appreciate that an important donor has recognized my hard work and academic achievement. This scholarship has motivated me to continue to achieve academically."
Forman graduated cum laude from Utah State University, with a B.S. in Finance and Economics and a minor in Spanish. He has worked at a wide range of jobs, from volunteering in Chicago in impoverished neighborhoods teaching English; to providing food, shelter, and services at a community crisis center; to working as a heavy equipment operator in Utah and as a financial representative. And now, at Miami Law, the Utah native clerks at MasTech, Inc. on employment and labor law issues.
Clemente Vazquez-Bello was well represented by family with his wife of 40 years, Margarita "Maggie" Smith-Vazquez-Bello, daughters Patty and Caro, and son Luis present at the luncheon.
"There is nothing more Clemente would have wanted than to assist a young and driven student to achieve his/her goal of graduating from Miami Law," said Maggie. "I felt as though my husband picked Tanner out himself. He is the perfect candidate for this scholarship and on top of that he is quite the UM football fan!"