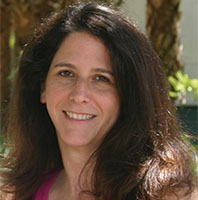 Marni Lennon, Assistant Dean for Public Interest and Pro Bono and Director of the HOPE Public Interest Resource Center, was selected by the Returned Peace Corps Volunteers of South Florida and the Miami-Dade Teacher of The Year Coalition as co-winner of the Spirit of Service Learning Award.
"It is such an honor to be recognized by two groups that embody the dedication to service and education I hope to cultivate in all Miami law students," said Lennon.
Lennon received the award on October 4, which included a gift of $250. Local K-12 and college teachers who are integrating service-learning into their classes were also recognized during the ceremony.
"The inspiring ceremony and evening brought together teachers, students and returned Peace Corps volunteers for a celebration resonating with a passion for service and change in communities near and far," said Lennon. "I am proud to contribute the award to support the HOPE and Summer Public Interest Fellowships."
HOPE serves as the law school's central hub helping students find ways to use advocacy to afford access to justice and provide opportunities for law students to participate in pro bono and community service events. It also provides stipends to law students who work in uncompensated public interest jobs during the summer.
"We need to ensure that our students who seek to work on behalf of marginalized individuals and communities, and who work on matters of public interest locally, nationally and internationally are supported in their efforts," said Lennon.