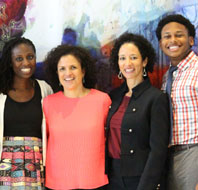 In the U.S. today, African-American students across all income levels score an average of twenty-five points lower than their white counterparts on standardized tests. This is known as the "racial achievement gap," and is often just the beginning of lifelong inequalities shaped and impacted by the social construction of race. The group for which this phenomenon has been most often documented in the American school system is African-American males.
The documentary American Promise spans 13 years as Joe Brewster and Michèle Stephenson, middle-class African-American parents in Brooklyn, N.Y., turn their cameras on their son, Idris, and his best friend, Seun, as they make their way through one of the most prestigious private schools in the country. Chronicling the boys' divergent paths from kindergarten through high school graduation at Manhattan's Dalton School, this provocative, intimate documentary presents complicated truths about America's struggle to come of age on issues of race, class, and opportunity.
The film was screened last week at the University of Miami's Cosford Cinema and was hosted by Miami Law, the UM School of Education and Human Development, the UM American Studies Program, UM Miami Educational and Psychological Studies, UM Students for Education Reform, Palmer Trinity School, the UM Office of Academic Achievement, and the Woodson-Williams-Marshall Association. There was a question and answer following the screening and a lecture by one of the filmmakers the following day at the Student Activities Center.
"American Promise used the compelling story of two middle-class black families at a private school to tell a much larger story about access—social, economic, political, even—and how that access breaks down by race in our country," said Miami Law Professor and organizer Osamudia James. "As such, we were honored to bring the documentary, and Michèle Stephenson, one of the documentary's directors and subjects, to campus."
>American Promise was an Official Selection of the 2013 Sundance Film Festival and winner of the Grand Jury Award at the 2013 Full Frame Documentary Film Festival. It is a co-production of Rada Film Group, ITVS, and POV's Diverse Voices Project, part of American Graduate: Let's Make It Happen, made possible by CPB.
"Stephenson's American Promise touched on the more nuanced aspects of education reform that I believe are crucial and missing in the current national dialogue," said Mischael Cetoute, co-president of Students for Educational Reform. "While graduation rates, and test scores are valuable in assessing education, they are not the goal, and conversations that touch on the interpersonal side of education are critical in achieving a more equitable education system."
"All American families want to give their children the opportunity to succeed. But the truth is, opportunity is just the first step, particularly for families raising black boys," said Michèle Stephenson, Co-Producer and Co-Director. "We hope American Promiseshines a light on these issues."
The impact of the film has created a ripple across the educational landscape. As an outgrowth of the film's message, collateral materials have been created for educators, parents, and student and youth groups. The materials include: a post-screening point-of-view discussion guide, the book ; The Promise Tracker - a mobile app that allows parents to create teams and collaborate as well as set goals; a guide to forming a Promise Club for parent support groups, a professional development guide for educators; and for students, a guide to building a more positive sense Promises Kept: Raising Black Boys to Succeed in School and Lifeof identity, leadership, and academic success; and finally the Laundromat Project, an analytical curriculum for students to examine perceptions and how to spread positive images of themselves and their community.
As a leading academic institution in the South Florida community, we have an obligation to provide opportunities for university and community institutions to engage in meaningful dialogue toward social change that can benefit Miami residents – students and families," said Dr. Laura Kohn-Wood, Chair and Associate Professor, Department of Educational and Psychological Studies. "This is why we were particularly appreciative of the co-sponsorship from Palmer Trinity School and the attendance at the events by students, faculty, and administrators from both Palmer Trinity and Gulliver Schools."