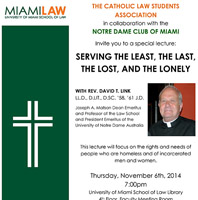 Miami Law's Catholic Law Students Association, in collaboration with the Miami Chapter of the Notre Dame Alumni Association, recently hosted a lecture by Reverend David Link, "Serving the Least, the Last, the Lost, and the Lonely," on the rights and needs of incarcerated men and women.
Reverend Link is far from a traditional priest as he was ordained at 71 years of age. Prior to that, he had served as Dean and Professor of Law at Notre Dame for twenty-four years, then as Founding President and Vice Chancellor of the University of Notre Dame Australia from 1990-1992. A devoted husband for 43 years, his family consists of five children and 15 grandchildren, but following his wife's passing years ago, he entered the seminary and was ordained a priest, choosing to leave academia and become a prison chaplain.
During his lecture, the Reverend explained his prison ministry began with the expectation that prison inmates were all the same, a presumption that could not have been more wrong. He explained that in getting to know these incarcerated men and women, he found they were by-and-large good people who had made poor life decisions. Learning more about their backgrounds, he found that these men and women had not fallen through the cracks; they were born in the cracks, many coming from poor families, abusive parents, or living as orphans.
As explained in his lecture, Reverend Link does believe that certain individuals need to remain incarcerated and separated from society — psychopaths or career criminals — but he feels that those inmates who are good people but made poor life choices, should be moved from prisons into houses of healing.
Reverend Link is fully committed to the idea of empowering inmates to believe life is bigger than they are through establishing a God-centered life regardless of individual religious beliefs. Ministering to all religions - from Catholics and Muslims, to Wicca and Ásatrú (more commonly referred to as white supremacists) - is the first step in helping these men and women define a new existence for themselves.
Through stories of personal encounters, Reverend Link was able to offer in his lecture a unique perspective on the current environment surrounding incarcerated men and women in our society. One of the most impactful stories involved an inmate named John. Having never painted before incarceration, John became an accomplished portrait artist, signing all his works as "Myfa Thersson," or said formally "my father's son." John has dedicated all of his works to a man who he will only see during visitor days.
Reverend Link described his life as a series of successes, but explained his proudest accomplishment was becoming a prison minister, moving from a life of success to a life of significance. He urged all in the room to take a chance and get involved.
The lecture was attended by several Miami Law faculty, administrators, and students, Notre Dame alumni, and guests from the St. Augustine Catholic Church, including Monsignor Carruthers, Pastor for the St. Augustine Catholic Church and Catholic Chaplain for the University of Miami.
Embedded Video