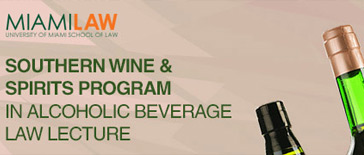 When the 18th Amendment to the U.S. Constitution was passed in 1919, it ushered in the era of Prohibition, a period when the manufacture, distribution, and sale of alcohol was illegal. While it was the crowning jewel of the temperance movement, it was accompanied by soaring crime rates as organized crime fought for control of the black market for liquor. The era would last until January 1933 with passage of the 21st Amendment, repealing Prohibition. The 21st amendment is unique in that it is the only amendment among 27 to have been ratified by state conventions rather than by state legislatures.
From the passage grew a patchwork of state and even municipal regulations regarding the sale of alcohol that range from alcohol available at a full range of retail outlets to Sunday bans on the sale of liquor. "Dry" counties still exist throughout the United States.
Matthew D. Botting, General Counsel to the California Department of Alcoholic Beverage Control (ABC), will deliver a lecture, "Regulating in the Real World: The Theory and Reality of the Three Tier System," at Miami Law on Thursday, November 13th. The lecture will be held from 12:30 to 1:50 p.m. in the South Activities Room, on the third floor of the Student Activities Center.
Botting will discuss the history of state-based alcohol regulation; the theory behind the three-tier system: producers, distributors, and retailers; and the challenges faced by regulators in the modern environment. Interestingly, in California marijuana is regulated by the Department of Health, while in Colorado, it falls under the auspices of the Department of Revenue with Gaming and Liquor and Tobacco regulations.
Botting, a New Zealander, has over 16 years of state government legal experience having served as Deputy Attorney General with the California Department of Justice before his rise to General Counsel at ABC.
The Southern Wine and Spirits Program in Alcoholic Beverage Law Endowed Fund was established in 2012 thanks to the generosity of the Wayne & Arlene Chaplin Family Foundation, Inc. and the SWS Charitable Foundation, Inc. The purpose of this endowment is to enable the School of Law to offer an annual course focused on alcoholic beverage law and/or to fund speaker series, seminars or professors in alcoholic and beverage law.