Judge Stan Blake, Don Bailey, Jr., Todd Payne with Sebastian the Ibis at the Golf Tournament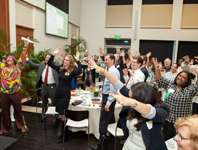 In a four-day celebration full of fun, Miami Law's Homecoming Weekend was bestowed with perfect Miami fall temperatures and was presided over by Patricia Redmond, J.D. '79, President of the Law Alumni Association (LAA) and Detra Shaw-Wilder, J.D. '94, LAA Chair of Homecoming and Vice President for Activities.
Homecoming festivities kicked-off on Wednesday, October 29th with the 5th Annual Law Alumni Association Homecoming Golf Tournament. Under the leadership of Elizabeth Honkonen, J.D. '98, past president of the Law Alumni Association and Todd S. Payne, J.D. '89, past president of the Law Alumni Association and founding member and partner of Zebersky Payne, LLP, the golf tournament was a resounding and sold-out success, with the proceeds going toward the Paul T. Dee Memorial Endowed Scholarship at Miami Law.
Reunion receptions for the classes of 1984, 1989, 1994, and 2004 were held throughout the Law School Thursday evening from 6 p.m. to 8 p.m. The Class of 1974's 40th Reunion reception was held at the Alma Jennings Foundation Student Lounge on Friday evening.
Many homecoming celebrants also attended the Hurricane Howl, the parade, pep rally, boat burning, and fireworks, held Friday night. Saturday morning started early with the 66th Annual "Morning Spirits" and Homecoming Breakfast in honor of the judiciary, elected officials, and reunion classes at the Newman Alumni Center with featured speaker Dave Barry, Pulitzer Prize writer.
During the ceremony several alumni were honored, including Jeff Fine, J.D. '67, president of the Alma Jennings Foundation with the Thomas Davison, III Memorial Service Award. The Henry "Lat" Latimer Leadership and Professionalism Award was given to Sharon Langer, J.D. '79, executive director of the Dade County Legal Aid Society. Sara Solano, SBA President, was given the Joseph H. Bogosian Student Leadership Award. The Young Alumni Club of the Year Award was given to Tiffiny Walls-Fox, J.D. '06, in-house counsel for Liberty Mutual Insurance Group and the Mary E. Doyle Award, presented by Miami Law Women, was awarded to The Honorable Robin S. Rosenbaum, J.D. '91, judge for the United States Court of Appeals for the Eleventh Circuit. The President's Award was bestowed on Jaret Davis, J.D. '99 and Patricia Redmond, and the M. Minnette Massey Moot Court Award, presented by the Charles C. Papy Moot Court Board, was awarded to Roy Black, J.D. '70, renowned criminal defense attorney. The Daniel E. Murray Distinguished Service Award was presented by the University of Miami Law Review to Brian Toth, J.D. '08, associate in Holland & Knight's Miami office.
Homecoming weekend culminated with the 12:30 p.m. kickoff on Saturday of the University of Miami 'Canes vs. the North Carolina Tarheels football game, where the 'Canes won 47-20.
View All Photos From Homecoming 2014