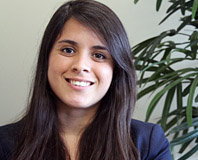 ​Paulina Valanty speaks five languages, is a passionate advocate for passage of the Dream Act, and has set her sights on a career with the federal government.
"I am very happy and excited to join the Department of Homeland Security's Honors Attorney Program and work within the Department's Office of the General Counsel in Washington D.C. after graduation," said Valanty. "I am honored to devote my skills and education to serving this country."
The 25-year-old native Chilean arrived in the U.S. at the age of 15, without speaking a word of English. Seven years later, Valanty would graduate summa cum laude from the University of Texas at Austin fully fluent in English, French, Portuguese, and Spanish, and speaking some Italian. While at UT-Austin, she interned at the University's Immigration Clinic, working on clients like herself – those who arrived as children either undocumented or overstaying tourist visas.
As a result of the experience, she set her sights on Miami and the University of Miami School of Law. "The clinical professors at UT highly recommended the University of Miami Immigration Clinic," Valanty said, "and the program in general so I was very excited to come to Miami."
As a second-year law student, the Miami Public Interest Scholar also received a Merit Scholarship from the Broward County Hispanic Bar Association for Outstanding Academic Achievement and Community Involvement of a Hispanic law student. She interned at Miami Law's Immigration Clinic and participated in an alternative Spring break trip setting up Deferred Action clinics throughout Florida to help undocumented students get a work permit. That year she also interned with the Honorable Jose E. Martinez, a Federal Judge for the Southern District of Florida.
She spent a summer at the Department of Justice Summer Legal Internship Program with the Executive Office of Immigration Review, at the Houston Immigration Court.
As a third year student, she interned with the non-profit Americans for Immigrant Justice, and participated in the Professional Responsibility and Ethics Program. She is also the Eleventh Circuit Editor of the University of Miami Law Review.
This past spring, Valanty worked closely with Professor Donna Coker to launch and organize a national intimate partner violence conference, Converge! Re-Imagining the Movement to End Gender Violence.
"When Paulina was a student in my Domestic Violence & Social Justice class she was simultaneously enrolled in the Immigration Clinic where she worked on a gender violence-based asylum claim," said Coker. "I was impressed with the seriousness and compassion on behalf of survivors of domestic violence with which she approached her work in both settings. She combined a rigorous approach to law with a sincere compassion for the whole individual that is the mark of a truly great lawyer. She brings skills in organization and high energy as well, as demonstrated by the excellent work she did as a member of the Converge! conference student team."
"I am very proud to be graduating from law school a couple of months before the 10th anniversary of my arrival in the United States," Valanty said. "Looking back at these last 10 years, I cannot believe what I was able to achieve in this country. It has been a difficult path, but a tremendously rewarding one."