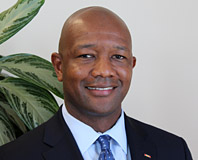 Corey Gray grew up in Palm Beach County, alternating between his mother's house and grandparents' farm near the eastern edge of the Everglades. The family grew row crops, and from the age of five, everyone was expected to do their part.
In 2004, he began serving five years of active duty, pulling tours in Baghdad, Abu Ghraib, and Kirkuk, Iraq. At the time, his wife, Marissa, was attending Miami Law. He would bring home a Bronze Star Medal, Iraqi Campaign Medal and Combat Action Badge as he grew from Platoon Leader in the Army 10th Mountain Division, to Company Commander in the Reserves, to his current role as Joint Command Staff Officer at U.S. Southern Command.
Now, at 34, he has travelled the world to end up just down the road from his childhood home, graduating from Miami Law as a member of the Iron Arrow Honor Society, as winner of the Litigation Skills Program's Thomas Ewald Top Student Litigator Award and the Kozyak Tropin & Throckmorton Scholarship, as the outgoing editor-in-chief of the National Security and Armed Conflict Law Review and as Vice President of the University of Miami Mock Trial Team.
His military and educational journey began in high school when he joined Air Force JROTC and became involved with a faith-based organization that would provide a world of guidance and comfort, introducing him to the concept of service. As a high school junior, the idea of college entered the picture – something he had never considered before. Gray's church backed him and he was offered a spot at Florida State University. He was a trailblazer in the sense that he would be the first in his family to reach for a higher education but he didn't have the confidence that he could succeed at that level. So he instead started at community college before transitioning to FSU, where he would graduate with a Bachelor of Science in History and Political Science in May of 2002.
With an eye toward entering politics, Gray went to Washington, D.C. to intern with U.S. Senator Bill Nelson. His grand plan was diverted by the events of 9/11, sending him back to Florida State for graduate school in History and Army ROTC, and then into the U.S. Army.
When Gray returned stateside, he went on Reserve status taking command of a reserve unit in October 2009 and was assigned to U.S. Southern Command, where Captain Gray is still an Intelligence Officer in the Foreign Disclosure Office.
"I decided to come to law school in large part because of my experiences during my second deployment," he said. His work in Iraq interfacing between the JAG Corps, military, and civilian population often involved drafting contracts both small and large for schools, bridges, and infrastructure. "I thought that if I could positively change an environment using the law in a different culture, imagine how I could use law to make a difference back home."
"I knew Miami Law was a place that would allow me to grow as I transitioned from the military to being a full-time citizen and attorney because of the positive experiences my wife had as a law student here when I was deployed," Gray said. "Being an attorney is about sitting down with folks and helping them navigate through tough legal issues, that is a form of service that I can get behind."
He says he is surprised by his interest in pursuing bankruptcy law. Gray credits mentors like his bankruptcy professor Patricia Redmond, and John Kozyak, whose firm Kozyak Tropin & Throckmorton provides a minority mentoring program where minority law students are paired with local practitioners, such as local attorney Paul Orshan.
"Corey has all the qualities we are looking for in a future lawyer and a great student," said Laurence M. Rose, Professor of Law Emeritus and Director of the Litigation Skills Program. "His energy, enthusiasm, creativity and dedication complement his natural intellect to create excellence in and out of the classroom. If you look up leadership in the dictionary you will find Corey Gray's picture."