Drew Aiken, JD '12, was recently awarded a grant from the Fulbright Program to examine the impact of customary law on women in several different tribes in Namibia. Aiken first became interested in Namibia while a student at Miami Law when she participated as a 1L in the Namibia Neutral Trial Observer Initiative, a program offered by HOPE in 2010.
"I am honored by this opportunity to research the impact of customary law on women in Namibia and I couldn't be more thrilled to return to Windhoek where I spent my 1L summer," said Aiken. "The Neutral Trial Observer program opened my eyes to studying human rights, international and comparative law as well as sub-Saharan Africa issues. The knowledge and skills that I acquired from that experience are invaluable and will serve me well as a Fulbright fellow."
In addition to spending her 1L summer in Namibia, Aiken was also a student fellow for the Human Rights Clinic and member of the Society of Bar and Gavel. Since graduating from Miami Law, she has served as a legal fellow for the Center for Reproductive Rights, and worked as a Congressional intern in the U.S. House of Representatives. She is currently working as a Reproductive Justice Policy Consultant for the National Asian Pacific American Women's Forum.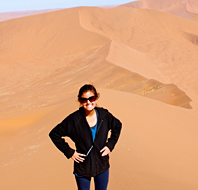 As a Fulbright Fellow, Aiken will examine women's access to justice in the customary law system and research the extent that Namibian women are able to participate in decision making. She will focus on inheritance, property, and family law. She hopes to publish a human rights report or a research paper, and to work on educational initiatives with the Namibian government after she finishes her field work.
"There are concerns that in some customary law systems in Namibia, women have limited rights to own and inherit real and personal property, which can lead to harmful consequences," explained Aiken. "It is unclear the extent to which women have legal or other remedies within traditional justice systems or the extent to which they are able to participate in the resolution of disputes."
"I hope that obtaining more comprehensive information and conducting educational initiatives and advocacy will assist the Namibian government and other stakeholders in their efforts to improve economic stability for women and to promote gender equality in Namibia."
The Fulbright Program was established in 1946 under legislation introduced by then-Senator J. William Fulbright of Arkansas. The Fulbright Program is sponsored by the U.S. Department of State's Bureau of Educational and Cultural Affairs, and awards approximately 8,000 grants annually. Currently, the Fulbright Program operates in over 155 countries worldwide.