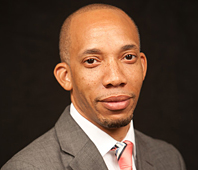 Professor Charlton Copeland has received a 2013 Dukeminier Award and the Michael Cunningham Prize for his article, "Creation Stories: Stanley Hauerwas, Same-sex Marriage, and Narrative in Law and Theology," which was published in the Duke Law School journal, Law and Contemporary Problems, at the end of 2012.
The essay's central argument is that criticism of the marriage equality movement might be better understood, and might better understand itself, by recognizing its similarity with connection to the narrative theology movement. Through a discussion of liberal theological movements and liberal legal movements (here understood as the marriage equality movement), this essay argues that critics of the marriage equality movement share a similar conception of narrative's constituting power with the narrative theological movement. Their claims rest on a conception of communal identity constructed through narrative that is capable of making normative claims on the strategic choices of the LGBT equality movement. This essay argues that we might understand battles over the strategy of the LGBT equality movement as a battle over what constitutes the authoritative "canon" that is not very different from the battles within particular religious traditions.
"Having the article recognized in this way is gratifying on quite a few levels," said Copeland. "First, it affirms my sense that we can think seriously about the relationship between law and theology as normative discourses, and apply that thinking to relevant issues such as same-sex marriage. I take my identities as a religious person and as an LGBT person seriously, and bring them fully to the table, and so this article is special because it's allowed me to explore the surprising ways that queers and orthodox Christian theologians might have lots in common; as the movement for LGBT equality progresses, I think highlighting these connections is important."
Professor Copeland has a Master of Arts in Religion from Yale Divinity School, as well as a J.D from Yale Law School. He joined Miami Law's faculty in 2007, and his research interests are administrative law, federal courts and federalism, comparative constitutional law, and the race and the law.
"Given the fact that Stanley Hauerwas was one of the reasons why I embarked upon an academic study of theology, I am very happy that this article was produced as a way of honoring his career, and important contributions," said Copeland. "I am in awe of the work of many of the people who have won the Dukeminier Award – Melissa Murray, Russell Robinson, Cliff Rosky from my 'generation' – and Bill Rubenstein and Kenji Yoshino from previous generations have made tremendous contributions to this conversation. I'm just happy to have been included in such company."
The Williams Institute at UCLA School of Law awards the Dukeminier Awards. The awards acknowledge the best law review articles published on sexual orientation and gender identity law issues each year. The goals of the prizes are to encourage scholars to begin or continue writing about sexual orientation and gender identity law and public policy; provide valuable recognition and support for scholars, law students, and lawyers who write in this area; and provide easy access to each year's best scholarly materials for those outside of legal academia, including lawyers, judges, other legal actors, and policy makers.
The winning articles are reprinted in a special issue of The Dukeminier Journal, named in memory of Jesse J. Dukeminier (1925-2003), who was a member of the UCLA law faculty for 40 years and an excellent scholar and gay man. The journal celebrates scholarly excellence in the field of sexual orientation.
The Williams Institute is an academic think tank focused on sexual orientation and gender identity law and public policy. Each year, UCLA faculty and students screen nearly one hundred anonymous submissions to identity the top forty articles, which are closely analyzed in an annual seminar. Seminar participants select ten finalists, and an editorial board of faculty and students chooses the best three to five articles of the year.