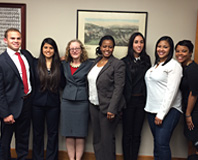 Miami Law's Professional Responsibility & Ethics Program (PREP) provides a forum for students to present customized, cutting-edge CLE ethics trainings to bar associations. This spring PREP students visited the Florida Association for Women Lawyers (FAWL), the Caribbean Bar Association (CBA), and Gwen Cherry Bar Association (Gwen Cherry) to discuss the legal ethics rules and the most recent opinions pertaining to social media, advertising, and civility. Mindfulness and ethics in the practice of law was also a popular topic at Gwen Cherry.
Gwen Cherry President Nexcy de la Rosa Monroe reflected on the training in an email. "It was an out-of-the-box CLE experience," Monroe said. "Not only did we learn about ethical considerations, but we did some yoga poses, meditated with chimes, and even experienced the calmness of tuning forks. It's definitely a different way to think about the practice of law. We all need a little tuning sometimes."
PREP student Jackson Siegal agreed. "Presenting to Gwen Cherry was an incredible experience. PREP students Paulina Valanty, Sean Holas, and Paige Rivkind engaged the group in a discussion of our hypotheticals that highlighted the ethical implications of social media discovery, spoliation, and civility," said Siegal. "Professor Jacobowitz and I introduced several mindfulness practices to demonstrate to the judges and lawyers in attendance how mindfulness may improve their professional lives by increasing focus, enhancing decision-making, and reducing stress. We shared a mindfulness worksheet, and I led a yoga sequence and meditation that can be done at work. The attendees' responses were fantastic."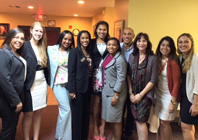 At CBA, civility and social media were popular topics. Danielle Singer, Christina Margolles, and Alex Friz engaged an animated and welcoming audience. "It is always interesting to see how attorneys react to the seemingly outrageous, but yet real-life cases that we present," said Singer. "Clearly, based upon their reactions and war stories, there is a need for an ongoing discussion about civility and professionalism. The Caribbean Bar Association was a great group; they carried on a lively discussion of the civility issues as well as the other issues presented at the training."
The feelings appeared to be mutual as CBA's President, Allison Smith, emailed the next morning, "I just wanted to say a great BIG THANK YOU to you and the ladies for doing such a lovely presentation for us. As usual, your presentation was excellent and very well received by our members," Smith said. "We are always very grateful for the opportunity to partner with you and the students."
The FAWL training session was also compelling as participants debated the appropriate use of social media in the practice of law.
"The FAWL group was very dynamic and insightful," said PREP student Jacqueline Frisch. "Each attorney provided a different perspective on the impact of the social media explosion on the practice of law and contributed to a lively conversation."

PREP student Jerome Jackson added, "FAWL was such a great group that the discussion flowed effortlessly. We had a great time debating the ethical issues facing today's legal field. Their feedback validated the timeliness and significance of our presentation."
Following the presentation, the PREP students received an email from FAWL Committee Chair Elisa J. D'Amico, who expressed thanks and stated, "I want to reiterate how wonderful your CLE program was and how impressive you all were. You are truly stars!"
The Professional Responsibility and Ethics Program, a 2012 recipient of the American Bar Association's Smythe E. Gambrell Award, was established in 1996 as an in-house program within the Center for Ethics and Public Service at Miami Law. PREP's programming originated as an outgrowth of a collaborative effort with the nonprofit legal community to provide training on ethics issues arising in the context of serving the underprivileged. Today, PREP has expanded to present ethics training to lawyers working throughout the legal profession in venues ranging from small gatherings at nonprofit offices to large bar association meetings and national webinars.