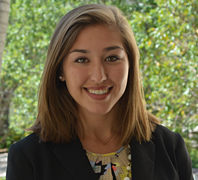 It is well known that the Miami metropolitan area is home to one of the greatest wealth divides in the country. For rising 3L and Miami Public Interest Scholar Nejla Calvo, this growing wealth divide and lack of access to justice for some of the community's poorest provided a call for action and community lawyering.
"What I find motivating about studying law in Miami is that there exists a plethora of civil rights case studies all around me," said Calvo. "What's more is that I am able to learn by doing as a participant in legal clinics, internships, and public service oriented student organizations."
Touched by the deep public interest backgrounds of her first-year professors Anthony Alfieri and Jennifer Hill, Calvo decided to engage in community lawyering. This led her to the Florida Justice Institute (FJI) for her first-year summer and helped her recently land a prestigious Ella Baker Internship with the Community Justice Project (CJP).
The Community Justice Project, a project of Florida Legal Services, Inc., was founded in 2008 to provide legal support to grassroots community organizations in Miami's low-income communities. Rooted in the law and organizing movement among poverty lawyers, the CJP believes those most impacted by marginalization or oppression lead their own fight for social justice and that lawyers are most effective when they support community organizations accountable to the persons most affected by social injustice. The CJP's current priority areas are affordable housing and workers' rights.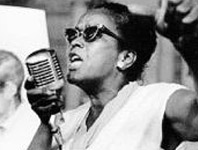 "…Whether it's labor and employment disputes, immigration troubles, or economic struggles that call for legal representation, there is just so much going on to get engaged in" Calvo adds.
Sharing the interests of community justice and access to legal services, Calvo quickly connected with a former Miami Scholar and recent graduate Leah Weston. In fact, Calvo follows in Weston's footsteps as an Ella Baker Intern with the CJP this summer. As Weston put it, "I am thrilled that UM Law has built a relationship with the Ella Baker program and continues to send talented students such as Nejla to its summer sites."
Thankful for the ability to connect with people like Weston, Calvo is committed to paying it forward and sharing her experiences—and network—with those that follow in her footsteps.
Read more about Nejla Calvo: "Dedication to Public Service Drew Nejla Calvo to Miami Law".