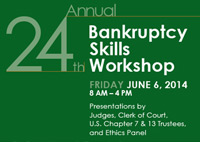 In partnership with the Bankruptcy Bar of the Southern District of Florida and the Put Something Back Pro Bono Program, Miami Law will hold the 24nd Annual Bankruptcy Skills Workshop on June 6.
The Bankruptcy Skills Workshop will provide a unique look into changes in local practice and navigating consumer bankruptcies. There will be separate discussions by U.S. Bankruptcy Judges, Clerk of Court, U.S. Chapter 7 & 13 Trustees, Ethics Panel, Staff Counsel for the FL Bar, and seasoned debtor and creditor counsels.
The workshop, from 8 a.m. to 5 p.m., will focus on the Loss Mitigation Mediation Program ("LMM") on successfully mediating debtor-creditor disputes and managing client expectations; how to effectively represent debtors and creditors in chapter 7 and 13 cases; trust account violations, sanctionable conduct and the unauthorized practice of law; and The Chief Clerk of Court and courtroom deputies panel to review current and future initiatives, filing and calendaring tips, submission of orders, Guidelines for Courtroom Decorum, and digital audio recording (DAR) requirements.
The workshop will be held at the Storer Auditorium at the University of Miami School of Business. 8 Florida CLE credits will be provided, including 1 in ethics.
To register, click here. Registration fees support the Louis Phillips Scholarship Fund.