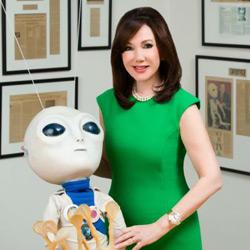 If Laurie Silvers could have a superpower, it would be the same as her comic book hero, Lady Justice, "where any woman has the super powers to affect her world; to use an intellectual 'superpower' that she didn't know she had to correct an injustice and improve our world," she said.
Silvers more than makes up for her lack of comic book superpowers by influencing the world around her every day. Along with her husband, Mitchell Rubenstein, Silvers' latest gift to the University of Miami School of Law will create two scholarships: the Laurie Silvers and Mitchell Rubenstein Endowed Scholarship, and the Laurie Silvers and Mitchell Rubenstein non-Endowed Scholarship.
Silvers and Rubenstein are generous supporters of the law school, having previously established the Laurie Silvers and Mitchell Rubenstein Endowed Distinguished Professorship. Silvers is also a UM Trustee, on the UM School of Law Momentum2 Committee, the Dean's Council, the School of Law Visiting Committee, the Heritage Society and is an underwriter of the WeRobots Conference.
"I believe that great education creates great opportunities for our students. We can attract the best students if we have scholarships to help them afford their education and can also offer them distinguished, world-class professors. That is what I am trying to accomplish through my past and present gifts."
As a young girl growing up in Springfield, Illinois, small town life was pretty idyllic for Silvers. The four seasons were spent riding bikes, boating, watching the leaves change, ice skating and sledding. "My memories of growing up in a small Midwestern town are joyful and full of play."
However, for Silvers and her family, Miami was more than that, it was paradise. "I never realized that there was a place on the planet were it was spring and summer twelve months of the year," she said, in an interview in her offices in Boca Raton. Her family moved to Miami Beach when she was twelve and she would become as much a Miami girl as one born at Mount Sinai Hospital.
She went from Miami Beach High, where she was bookish, to the University of Miami to study psychology, political science, and philosophy, ("it's all related," she said), and finally to Miami Law. She feels she really clicked at Miami Law and she never wanted to stray much farther north than Palm Beach County.
Silvers excelled in law school where she loved reading Supreme Court briefs and actually enjoyed breaking the decisions down until she could diagram the arguments. "I love the law. From an intellectual perspective, I find it challenging and interesting. I was the one who would brief and re-brief because I just loved the cases." She worked hard, as she always had in school, but felt she had found an area of study that satisfied her curiosity and drive.
She practiced law for ten years and always felt it was her obligation to become a student of her clients' businesses in order to represent them to the best of her ability. One particular client needed both a real estate attorney and a tax attorney to work as a team on a transaction and Silvers found herself working with Mitchell Rubenstein, a former classmate from Beach High. They worked very well together and in 1985 opened a law practice in Boca Raton. "Back then Boca Raton was a frontier," she said. "There were a lot of businesses opening up; it was just coming into its own. The opportunities were significant for a start-up law firm."
Then, following in the footsteps of her father, a veteran owner of Illinois and South Florida cable and broadcast stations, she began building a media conglomerate of radio, TV, cable, and Internet. Today she is owner of Home Town Cable Plus, a telecommunications system in Port St. Lucie, providing television, Internet, telephone, and alarm monitoring services; Treasure and Space Coast Broadcasting which operates five radio stations in Florida's Treasure Coast; Co-Founder and President of Hollywood Media Corporation; Co-CEO of Hollywood.com, a major Internet provider of entertainment news and information; and perhaps her most famous claim to fame, Co-Founder of the hugely successful SyFy Channel.
Silvers has been married to Rubenstein for thirty years and mother to three children: two are graduates of Miami Law, and the third is currently studying at the U towards a Ph.D. in Psychology.