Left to right: Christina Margolles, Christina Flateau JD' 13; Judge Sarah Zabel; Alexandra Friz and Danielle Singer (Photo: Miami Law) 
Miami Law's Professional Responsibility & Ethics Program (PREP) continues to provide a forum for students to present to attorneys the ethical challenges that confronts today's legal profession.
In one recent presentation, students Danielle Singer, Christina Flatau, Christina Margolles, and Alexandra Friz focused on the impact of social media in the courtroom with the 11th Judicial Circuit judges. Under the direction of Jan Jacobowitz, director of PREP, they covered various topics, including service via Facebook, motions to compel discovery of social media evidence, and judges using social media in their professional lives.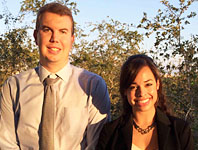 "Presenting before the Eleventh Judicial Circuit Court Civil Judges was an excellent opportunity to gain insight into how judges and lawyers view ethical issues from a practical perspective," said Margolles.
PREP students facilitated a lively conversation and debate among the judges and their legal advisors about the cutting-edge use of social media as evidence and during jury selection.
"It was such a unique and amazing experience to present ground-breaking ethical issues to such an engaged group," said Friz.
"The CJE training gave us the unique opportunity to engage in a lively discussion with judges who are on the other side of these issues and who are confronted with ruling on these 'hot topic' issues," said Singer, a PREP fellow.
In another training session, PREP students Sean Holas, Jennifer Felipe, and Benjamin Muschel discussed Florida's 2013 top ethical issues with the Coral Gables Bar Association. The students created several engaging hypotheticals that focused on ethical issues pertaining to LinkedIn, online blogs, professional networking organizations, and Florida's new lawyer advertising rules.
PREP fellow Holas said he "was thrilled we were able to cultivate such a lively dialogue with the group of attorneys."
The students engaged the attorneys in an in-depth conversation about using the Internet and social media, both as an advertising strategy and as litigation tools.
Felipe, PREP intern and first-time presenter, found the program to be "the most rewarding and practical learning experience in law school. The opportunity to engage in stimulating discussion with a room full of practicing attorneys added great depth to my research."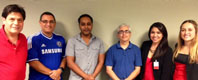 PREP students also visited Miami's State Farm legal counsel offices where they delivered a national webinar on contemporary legal ethics issues. PREP interns Alexandra Friz and Christina Margolles delivered a CLE session spanning various topics such as the ethical implications of advances in technology and the proliferation of social media. The presentation also included information on the unique ethical obligations that arise in disclosing related bankruptcy proceedings to the judge presiding over a civil case.
Broadcasting a webinar to State Farm legal offices all over the country, PREP facilitated conversation and debate about the growing ethical obligation of attorneys to maintain technological competency and employ social media in their cases.
"Ethical obligations shape the legal profession, and it's really interesting to see how the problems projected in a lot of the research was reflected in real-world practice, particularly in the realm of Facebook and other social media sites," said Margolles.
Friz, whose portion focused on bankruptcy disclosure in civil law suit, said, "the issues we presented really gave me an opportunity to see how the professional guidelines and ethics opinions evolve over the years and throughout the states. Though the gist of the rules remains the same, there is much detail involved in their actual application."
PREP is an award-winning program, which develops continuing legal education (CLE) ethics training for the legal community. The program combines the attributes of an ethics institute and an ethics clinic, and has dedicated hundreds of student hours to public service and has educated thousands of members of the Bench & Bar. In 2012, PREP was recognized by the ABA with its E. Smythe Gambrell Professionalism Award - the leading national award recognizing programs and projects contributing to the understanding and advancement of professionalism among lawyers.