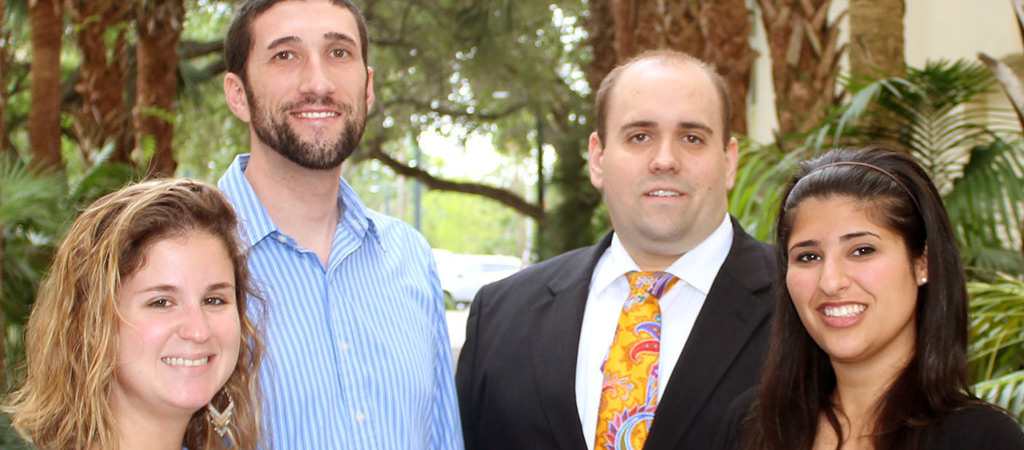 Left to right: Bianca Olivadoti, James Galvin, Eric Malloff, and Lauren Gonzalez
Miami Law students from the Investor Rights Clinic recently obtained an award of $13,750 for client Carol Barnes, an 82-year-old woman who lost a significant amount of her modest retirement savings that she invested with a broker.
When Barnes transferred her accounts with Steven Hollingsworth to Raymond James Financial, she lost more than 15 percent of her account value over a period of about 18 months from 2010 to 2012. The clinic alleged that her losses were attributable to improper fees charged to her account as a result of her broker recommending an excessive amount of trading in her account.
The broker earned a commission for each trade, commonly known as "churning," depleting her assets in a manner that was not immediately apparent to her. Her broker also recommended that she borrow money from Raymond James to purchase additional stocks, and she paid interest for this loan, further depleting her assets.
"We are delighted that the Clinic's first case to go through the entire arbitration process resulted in a victory for our client," said Teresa Verges, Director of the Investor Rights Clinic. "This great result is due to the dedication and hard work of the students who worked on Mrs. Barnes' case, demonstrating through sophisticated account analysis high levels of 'churning' and persuasively making their factual and legal case in Mrs. Barnes' statement of claim and other well-written submissions."
Former student interns James Galvin, Ann Marie Brodarick, Jacqueline Smith and Eric Malloff conducted the factual and legal investigation and developed the case. The Fall 2013 Investor Rights Clinic student interns assigned to the case -- Bianca Olivadoti, Lauren Gonzalez, Nima Tahmassebi, and Jerrell Crocker -- successfully obtained the documents from Raymond James necessary to support Barnes's allegations.
The student interns also gathered and produced all relevant documents from Barnes to Raymond James, and they also convinced the client to engage the services of an expert witness, who prepared analyses that summarized her losses and the excessive trading activity in her account. They then drafted two briefs, together with an affidavit from the client, which ultimately persuaded the arbitrator to award Barnes the full amount that she lost from her account with Raymond James.
"Working on this case definitely gave me a better idea of how the FINRA arbitration process works," said Olivadoti. "Although we had to wait a while for the decision, I'm glad that the arbitrator ultimately found for our client. It's amazing to say that I won my first case before even graduating from law school!"
Because the amount of the client's claim was less than $50,000, the case proceeded under the FINRA rules of arbitration for simplified matters. In simplified matters, the parties do not make oral arguments to the arbitrator but rather, present all arguments and evidence in written submissions to the arbitrator.
"I couldn't be happier to see our client awarded with this result," said Tahmassebi. "Working at the clinic taught me how to be straightforward and genuine with clients, all while helping them get through tough life experiences."
Since its inception in 2012, the Investor Rights Clinic has recovered numerous monetary settlements for its clients, but this case was the Clinic's first case decided by an arbitrator.
"This victory is a perfect example of the tremendous service the Investor Rights Clinic provides to its clients who might otherwise have nowhere else to go for help," said Galvin. "Having the privilege to be a part of the Clinic and to help on this case was the most rewarding and beneficial part of my entire law school experience."
In this successful case, Barnes received an arbitration award for her full out-of-pocket losses.
"It was a great experience working with all of the students," said Barnes. "They did so much for me and it was always a pleasure. If I didn't work with them, I wouldn't have gotten anything back."