Panelists and moderators with Dean Patricia White at the NSAC Symposium
As the gateway to Latin America, Miami sees tremendous amounts of people and products move through it every year, much of it transferred illegally. And as Miami has grown as a modern hub of international commerce, the problem of illegal trafficking has only increased, bringing significant national security implications. The growing trend also impacts human rights as untold numbers of individuals are trafficked throughout the city each year.
In light of this, the National Security & Armed Conflict Law Review (NSAC) assembled a panel of experts, academics, and practitioners to address the multi-faceted world of illicit trafficking of money, weapons, drugs, and humans at its annual symposium.
"It is frankly incredible how wide-spread illicit trafficking is, how large the illicit trafficking networks are, and how almost anything given the proper circumstances can be illicitly trafficked legal or otherwise," said incoming Senior Online Editor, Nicholas Esser.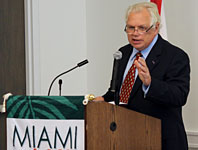 The event was headlined by Professor Dexter Lehtinen, a former U.S. Attorney, State Senator, State Representative, and Vietnam veteran, who was standing in for his wife, Congresswoman Ileana Ros-Lehtinen. The Congresswoman, who was tied up in Washington on official legislative business, sent a personal welcome and message to kick off the symposium. Other introductory remarks were given by Dean Patricia White, and Professor Markus Wagner, the faculty advisor of NSAC.
The two panels consisted of a diverse set of experts, academics, and practitioners with a broad depth of knowledge and experience. The first panel included Marine Colonel Daniel Lecce, Staff Judge Advocate at the United States Southern Command; Celina Realuyo, Professor of Practice of National Security Affairs at the National Defense University; and Captain James Carlson, Staff Judge Advocate at Coast Guard District Seven.
This panel discussed a number of subjects including the far-ranging implications of international and law of the sea on illicit trafficking. They also discussed how illicit monetary networks can be innovatively combated domestically and abroad with the use of private-public sector partnerships.
The second panel consisted of Jeremy Kuester, Director of the Office of Strategic Initiatives at the Treasury Department's Office of Intelligence and Analysis; Dr. Roza Pati, Professor of Law & Director of Human Trafficking Academy at St. Thomas University School of Law; and Maria Medetis, Assistant United States Attorney (Miami), Special Prosecutions Section for Human Trafficking.
The focus of the second panel was jurisdictional and enforcement issues with illicit trafficking, and the panel provided a vivid description of human trafficking, especially within the United States. Furthermore, the panelists went on to describe how individual citizens can combat and fight the illicit trafficking of human beings, what to look for, who to call, and what good it can do for the lives of those caught up in such a horrendous situation.
Both panels were moderated by Professor Wagner and Professor Mary Anne Franks with probing and insightful questions, all the while fostering a debate that synthesized the knowledge and experience of each panelist for the audience.
"The panelists did a phenomenal job informing us of the legal and social challenges they face in combating illicit trafficking here in Miami," said Editor-in-Chief Corey Gray.
The symposium was simultaneously broadcasted online all over the world for those who could not attend in person.
Embedded Video
Panel 1- International Trafficking and Enforcement
Embedded Video
Panel 2- Domestic Trafficking and Enforcement