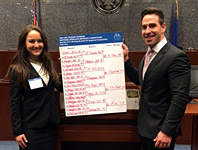 The Charles C. Papy, Jr. Moot Court Board experienced success in two recent competitions. The team of Donald "DJ" Hodson and Erica Haft, both 2Ls, was the Regional Winner at the ABA National Appellate Advocacy Competition Regional in Las Vegas, and the team of Jenna Winchester and James Sadler, both 3Ls, finished in the top 4 out of 31 teams in the 19th Annual Tulane Mardi Gras Sports Law Invitational.
"We had a very successful showing at the ABA National Appellate Advocacy Competition," said Miami Law adjunct professor Harvey Sepler, who coached two teams for this competition. "Out of the 32 teams that participated, we had one Regional Winner (the 2L team). It's very unusual for a 2L team to advance to the Finals. We swept almost every round and each one of the competitors won a Best Oralist distinction in at least one of their rounds. I'm looking forward to the Finals in Chicago in April."
The ABA National Appellate Advocacy Competition (NAAC) emphasizes the development of oral advocacy skills through a realistic appellate advocacy experience. Competitors participate in a hypothetical appeal to the United States Supreme Court. The competition involves writing a brief as either respondent or petitioner and then arguing the case in front of the mock court.
The ABA Law Student Division hosts six regional competitions over three weekends before the Nationals Final in April. After the qualifying rounds, the top 16 teams advance to the semifinal round, with the winners advancing to the final round. The winning four teams from each regional competition advance to the National Finals.
In addition to being named the Regional Winner, Hodson and Haft received third Best Brief overall and Hodson received the second Best Oralist award in the tournament.
The team of Lowell Karr and Lauren Pettiette, both 3Ls, also did an outstanding job. They were the number one overall seed out of preliminaries, advancing to the elimination rounds, and they had the third Best Brief.
The Tulane Mardi Gras Sports Law Invitational is an appellate competition focusing on sports-law related topics. The competition draws law students from some of the best law schools and moot court programs across the country. The team of Winchester and Sadler were coached by Miami Law alumnus Alex Arteaga-Gomez.
"We absolutely owe our success to our coach, Alex, and everyone who helped prepare," said Sadler. "Arguing at the 5th Circuit was an incredible experience. Unfortunately, sometimes you just have a difficult position to argue, and it came down to the wire. I'm very thankful for the opportunity."