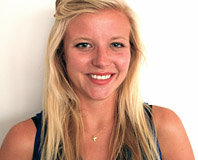 When one thinks of the state of Michigan, cars, Detroit and the Great Lakes come to mind. But with one of the largest Middle Eastern populations in the United States, Kirsten Corneliussen is learning first-hand the importance of immigration in Michigan.
As a Miami Law HOPE Fellow, Corneliussen is spending her summer at one of her dream jobs in Ann Arbor working at the Michigan Immigrant Rights Center (MIRC). As she explains, "MIRC stands on the forefront of advancing the interests of Michigan's immigrants and their communities through statewide impact projects." The center provides legal advice, assistance and training to attorneys and nonprofits, with the bulk of work geared toward victim-based immigration benefits and naturalization efforts.
As Corneliussen learned on her first day, "support includes over-the-phone and in-person intakes (in English and Spanish), preparing pleadings and applications, legal research, translating/interpreting, communicating with law enforcement and community partners, assisting permanent residents applying for naturalization, outreach, and more."
The rising 2L's interest in immigration law first peaked while working at the University of Michigan's Migrant Worker Outreach Program (MWOP). Through MWOP, Corneliussen was given the opportunity to teach English to communities of migrant laborers and provide a general overview of their legal rights while working in the U.S. "Seeing firsthand how poor the living conditions were for a large portion of my home community was eye-opening; and I knew then that I wanted to do something to make their lives better in any way that I could," she said.
When it came time to choose a law school, Corneliussen wanted to widen her exposure of immigration issues and she chose Miami Law for its Immigration Clinic. "I'm curious to see how my immigration law exposure in Michigan translates to the Miami immigrant community, and thrilled at the opportunity to have more hands-on experience in this field with peers that share my excitement for immigration law." Corneliussen credits Professor Rebecca Sharpless's Immigration Law class, as helping her prepare for her current position at MIRC. "That class touched on virtually every aspect of immigration law that I've been exposed to so far."
While halfway through her internship, Corneliussen hopes to help as many clients as she can this summer and has been most surprised so far by the creativity needed to work in immigration law.
"So often the law is written to be interpreted very strictly, and even if a client has done everything right and has a seemingly 'slam-dunk' case, they're restricted by the language of the law," said Corneliussen. "I've enjoyed seeing how my supervisor approaches a client's case with an open mind, and is able to work within the bounds of the law while applying an abstract way of thinking about the law."
Corneliussen will begin working at Miami Law's Immigration Clinic this coming year and hopes to continue practicing immigration law upon graduating in 2016.