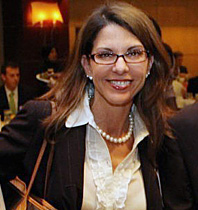 When Beth Bloom graduated from Miami Law cum laude in 1988, she had already amassed an impressive array of awards: the Roger Sorino Award as the Outstanding Law School Graduate; Moot Court Board Hall of Fame; Who's Who in American Law Schools; Iron Arrow; Society of Bar & Gavel; American Jurisprudence Award for Appellate Practice & Procedure, among others.
The Bronx native would go on and clerk for the law firm of William P. Cagney, III, and Colson Hicks & Eidson, before practicing at Floyd Pearson Greer Weil Brumbaugh & Russomanno. In 1992, she made the leap to the bench as a traffic magistrate in the Eleventh Judicial Circuit of Florida.
Last month, on Bloom's 52nd birthday, the United State Senate unanimously confirmed her nomination to sit on the U.S. District Court for the Southern District of Florida. She would have the support of both Florida's Senators – Marco Rubio-R and Bill Nelson-D.
"I am honored and humbled for the opportunity that has been given to me to continue my service to the community," Bloom told the Daily Business Review in an interview. "I am immensely grateful to President Obama, Senators Nelson and Rubio, and the judicial nominating commission for the confidence they have placed in me."
When she was nominated in February by President Barack Obama to fill the vacancy created when U.S. District Judge Donald Graham transferred to senior status, she had been sitting on Florida's Eleventh Judicial Circuit, civil division. She had also served in the criminal division after being appointed by Governor Charlie Crist in 2010 and ran unopposed in 2012.
At her nomination, President Obama said of the nominees, "Throughout their careers, these distinguished men and women have demonstrated a steadfast commitment to public service. I am confident they will serve the American people with distinction from the District Court bench."
Bloom has continued her support for Miami Law as she rose to county court in 1995 and circuit court in 2010. In 2011 she was awarded the Judicial Award of Recognition by Miami Law and the Thomas Davison III, Service Award in 1992. She has served on the Board of Directors of the University of Miami Law Alumni Association since 1988 and has served in various capacities including Judicial Director since 1995.