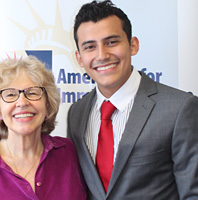 Brian Vaca is spending the summer as an intern at Americans for Immigration Justice and has been assisting immigration maverick and Miami Law adjunct professor Ira Kurzban on a pro bono case, as part of the HOPE Summer Public Interest Fellowship program.
The rising 2L can relate to the plight of immigrants, especially from Central America. He knows firsthand how dangerous and difficult life can be in the region having lived for some time in Ecuador as a child. "My family decided to come back to the United States because a criminal organization threatened to kidnap me and my brothers when we were in grade school," Vaca said.
"Immigration issues have had a profound impact on my personal life. Although I was born in and I am an American, I feel I know exactly what obstacles many people face," said Vaca. The youngest of five boys, he dreamt of becoming a soccer player, but as an adult, his chosen field is far from the playing fields of his youth. "Now that I am 'grown up,' I would like to be a great immigration attorney," he said. "I absolutely want to continue working on immigration issues; I came to Miami Law because of the great opportunities and involvement in the community."
"It's been great having Brian Vaca on board this summer," said Cheryl Little, JD '85, executive director of the Miami-based Americans for Immigrant Justice, formerly known as the Florida Immigrant Advocacy Center. "He's done an amazing job, drafting pleadings in a pending federal court case, providing legal help to vulnerable unaccompanied minors who arrived recently from Central America, and visiting a local adult detention center to help immigrants facing removal. Brian is an exceptional young man who no doubt will be a great lawyer."
A 2013 graduate of Florida International University, Vaca received a BA in Political Science and Psychology as well as a Certificate in Law, Ethics, and Society. He was on the Dean's List for four semesters and a 2009 inductee to Phi Alpha Delta. At Miami Law, he is a member of the Cuban American Bar Association, OUTLaw, the Student Bar Association, and Secretary of the Hispanic Law Students Association.
Vaca is also committed to working on issues of another marginalized populace: the LGBT population. "I hope not long from now the gay and lesbian community gets to marry like the rest of society, but, of course, that is only one of the issues," he said. "Hopefully there will be a day where everyone is not only allowed to marry, but also to be treated equally in school, work, health care, and all settings."
"Brian is an exceptionally dedicated advocate," said Marni Lennon, the Assistant Dean for Public Interest and Pro Bono. "His sincere commitment to equal rights made him a clear choice for the Summer Public Interest Fellows Program."
The Pasadena, California native looks forward to having a family, being a great dad, and, of course, coaching a houseful of budding soccer players.