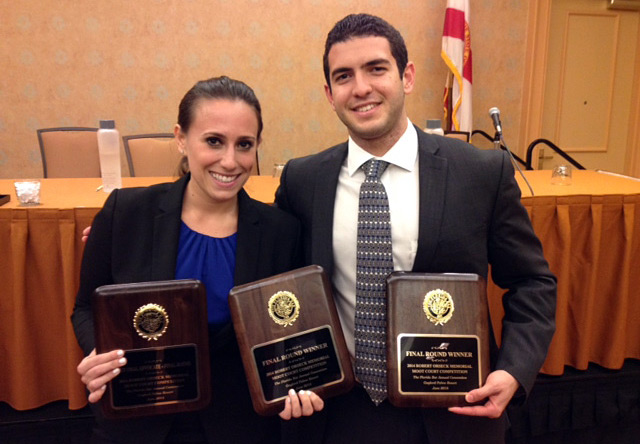 Leah Aaronson and Daniel Ferrante at the Robert Orseck Moot Court Competition 
The Charles C. Papy, Jr. Moot Court team of rising 3Ls Leah Aaronson and Daniel Ferrante won the 2014 Robert Orseck Moot Court Competition held in Orlando last week. They competed against all of Florida's law schools and were named state champions with their final round victory against Stetson School of Law. The Florida Supreme Court Justices scored the final round and selected Leah Aaronson as the best oralist. The team also received the Second Best Brief of the competition.
"Winning this competition was one of the most rewarding experiences I've ever had," said Aaronson. "This competition was a whirlwind of emotions - as we kept advancing, our nerves turned to excitement and our doubts turned to confidence. At the final round, Daniel and I decided to just enjoy the moment. Not everyone gets the opportunity to argue in front of the full Florida Supreme Court so we approached the round with energy, positivity, and confidence in our knowledge of the case."
The Orseck Competition is organized by The Florida Bar Young Lawyers Division during the annual Florida Bar convention. The competition stresses appellate advocacy and culminates with oral arguments. Each team submits a brief based on an actual case. The briefs are graded and the written grades allotted each team are combined with grades awarded on oral argument to determine the winning advocates.
"Arguing our case before the Florida Supreme Court was exciting," said Ferrante. "Leah was a great partner and an excellent advocate; I had no doubt that she was going to win the Best Oralist award. We worked incredibly hard to win the competition, and once we started, everything clicked."
The team was coached by Adjunct Professor Harvey Sepler, who works as Assistant Public Defender for Miami-Dade County.
"Watching our students argue to appellate and trial judges and lawyers, culminating in a sweep before the Florida Supreme Court, was thrilling, but not at all surprising, and really fun," said Sepler
"I'm glad we were able to make Miami Law and Professor Sepler proud," said Ferrante.