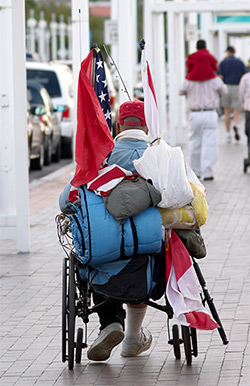 Hosea Smith had been a Miami-Dade bus driver for over 20 years when he was diagnosed with chronic lymphocytic leukemia in February of 2009. In January of 2013, shortly after undergoing his second round of chemotherapy, the 55-year-old applied for Social Security Disability Benefits; his claim was denied twice. Meanwhile, Veterans Administration officials failed to link his leukemia to his military service and, therefore, did not provide him with Veteran Disability Compensation Benefits.
Miami Law's Health Rights Clinic took on the case through its Helping Veterans project which offers free legal services for veterans for issues such as veteran's benefits, Social Security, Food Stamps, housing, economic stability, and other areas of urgent unmet legal need.
This past Friday, two fellows in the Clinic who are assigned to working with veterans achieved their first true breakthrough in the case.
Attorney Ryan Foley, J.D.'13, an Equal Justice Works AmeriCorps Fellow in the Clinic, and rising 3L Col. Noel Pace of the U.S. Army Reserve, an Equal Justice Works AmeriCorps JD Veteran's Legal Corps Fellow in the Clinic, received a fully favorable decision by Social Security on behalf of a Smith.
"We were able to convince a Social Security Judge – a veteran herself – in the Miami Office of Disability Adjudication and Review to approve the veteran's case without ever having to go to a hearing, based on the strength of the legal brief we filed," said Foley.
Smith will receive in excess of $10,000 in Social Security Disability back pay, in addition to ongoing monthly income payments.
Now Foley and Pace are pursuing Veteran Disability Compensation Benefits on behalf of the married father of one because it appears that Smith's leukemia is linked to his military service.
"I researched my client's day-to-day duties in the Army and learned that he had worked as a printing press operator/repairman and typewriter cleaner/washer from 1978 to 1981," Pace said. "He was exposed to high levels of carcinogens that would not be permitted by today's U.S. Environmental Protection Agency standards."
In the Miami region, there are presently almost 3,000 veterans known to be homeless, over 40,000 below the poverty threshold, and over 20,000 report mental health impairments. At least one in three veterans report unmet legal needs.
"The goal of our program is to ensure that veterans receive all the benefits that they are entitled to," said Foley. "There are so many veterans out their just like Hosea Smith who have served and worked their entire lives and now, due to disability, find themselves struggling to support themselves and their families. These veterans should not have to work as hard as they do to collect their rightful benefits."