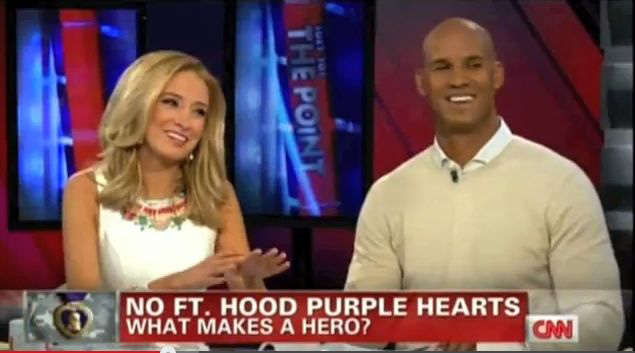 At the end of a rigorous school day when most law students are fervently closing their casebooks, springing into bed, and turning on their televisions to catch up on the day's news, the last person they expect to see looking at them from the other side of their screen is one of their classmates.
To their surprise, rising 2L Kayleigh McEnany, the blonde-hair, blue-eyed Tampa native appears alongside a panel of political figures on, among other stations, Fox Business' midday and primetime programming.
The founder of Political Prospect, an opinion website that seeks to begin a dialogue between various political ideologies, McEnany has been interested in politics for as long as she can remember.
"I have always been fascinated by politics and political commentary. Interestingly, besides me, no one in my family has a specific interest in politics or comes from a political background," said McEnany.
McEnany first got involved in politics as a high school sophomore in 2004 when she volunteered with the Bush/Cheney 2004 campaign. This experience not only landed her an internship with the campaign, but also helped launched the beginning of what would become a career in politics and eventual transition into television. After her senior year in high school, the college-bound 18-year-old interned for Tom Gallagher, a gubernatorial candidate who ran against Charlie Christ in the primary for Governor of Florida in 2006.
Given her interest in politics, McEnany's decision to attend Georgetown University's School of Foreign Service in Washington D.C. for college was a wise one. Majoring in International Politics, McEnany interned on Capitol Hill with Congressman Adam Putnam. Prior to leaving Georgetown for a year abroad at Oxford University in England, she interned at the White House during the Bush Administration in the Office of Media Affairs, where she wrote media briefings.
In addition to some exciting perks and occasional celebrity interactions, such as the time she got to escort New York Giants' quarterback Eli Manning to the Oval Office, McEnany's White House internship helped her discover her passion for political media and commentary.
Despite her impressive credentials, McEnany doesn't take herself too seriously.
"One of the funniest and most embarrassing things I have ever [accidentally] done was ask New York Giants Coach Tom Coughlin to take a picture of me with Eli Manning. I thought he looked like a nice guy to take the picture, not knowing he was the Head Coach for the Giants."
Upon graduating from Georgetown, McEnany joined the Mike Huckabee Show as a producer, where she worked for three years. "Working for The Mike Huckabee Show afforded me a number of once-in-a-lifetime experiences. I got to travel to Israel and write questions for Huckabee's interview with Israeli Prime Minister Benjamin Netanyahu. I also produced interviews in London before the Royal Wedding in 2011."
McEnany left Fox to pursue her career as a political commentator. She appeared as co-host on CNN's "The Point," a primetime political panel-based show, and made television appearances on shows such as America Live w/ Megyn Kelly, Cavuto, Fox News' Red Eye, The Mike Huckabee Show, The Real Story w/ Gretchen Carlson, and Varney & Co.
When asked how her career in politics has influenced her approach to law school, McEnany said, "Writing really hard-hitting questions in media has helped me ask critical questions while studying law. I believe the facts should lead you to your conclusion. However, with ideologies, people tend to reach conclusions that are not necessarily supported by the facts. My law professors have gotten me to question my views on issues I had preconceived ideas about."
McEnany is a recipient of the Bruce J. Winick Award for Excellence, a scholarship awarded to students in the top 1% their class. The scholarship was established in 2011 in memory of Professor Bruce J. Winick, who taught law at Miami Law for 37 years and was a pioneer in the field of therapeutic jurisprudence.
Peter Nemerovski, Professor of Legal Writing, was impressed by the quality of McEnany's work as a student in his Legal Communications class.
"Kayleigh is a creative thinker and a talented writer whose performance in my LComm class was excellent," said Nemerovski. "Her role as a political contributor requires her to research issues and debate them on live television, just as law students must research legal issues and debate them in the classroom. I admired Kayleigh's ability to balance the demands of the first year of law school with her appearances as a guest television commentator. I expect great things from Kayleigh in the future."
Early on, McEnany learned the importance of having a clean suit in her car and keeping up with current events.
"I never know when I am going to get booked. Sometimes the news stations call me an hour before the show to ask if I can be at the studio. If being on the show does not interfere with class or studying, I say yes and quickly head to my car to grab a change of clothes."
If she doesn't land a full-time role with a network after taking the Florida bar in July 2016, McEnany would like either to work for a large private firm or an organization like the Heritage Foundation or the Institute for Justice.
McEnany is appearing regularly on Fox News while living in New York City. She is also working remotely as a Research Assistant for Professor Andrew Dawson.
McEnany hopes to launch her post-law school career as a figure in media and politics. "The beautiful thing about media, law and politics is that they all feed into each other."