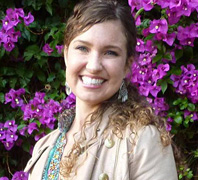 Armed with a Miami Law degree and a Master's degree in Public Health from the University of North Carolina, Betsy Haven continues in her mission to reform healthcare in the United States. Currently working as a staff attorney at Disability Rights California (DRC) in Los Angeles, Havens is helping people with disabilities gain access to health care.
"At DRC, I work on impact litigation related to racial disparities and access to needed services; Medicaid; and the enforcement of the Americans with Disabilities Act," explained Havens. "I also work on other systemic advocacy projects focused on helping people to remain or get out of institutions by helping them access community services they need and are entitled to. In addition, I oversee DRC advocates who help individual clients to access public benefits including Medicaid, Social Security, welfare, and other programs."
A former Miami Scholar, Havens received an Equal Justice Works post-graduate fellowship at Florida Legal Services in 2011. The two-year fellowship allowed Havens to lead the Children's Medicaid Rights Project.
"The goal of my project was to help disadvantaged children in Miami access vital health care services by eliminating systemic barriers through direct client representation, community engagement, policy advocacy and impact litigation," said Havens. "Over the course of the fellowship, I served as co-counsel on one major impact lawsuit, K.G. v. Dudek, which helped over 8,000 children with autism gain access to behavioral therapy which is now covered by Florida Medicaid."
During her time at Miami Law, Havens dedicated much of her efforts to advancing health care as a HOPE Fellow. She received a HOPE scholarship which enabled her to work at Florida Legal Services on impact litigation. She was also an intern at the Health Rights Clinic, a member of the Moot Court Board and served on the Public Interest Leadership Board.
"Throughout my three years of law school, I was surrounded by wonderful mentors and teachers and friends, and I found the University to be extremely supportive of my dedication to a career in public interest," said Havens. "I am most grateful for the lifelong guidance and friendship I developed during my pivotal time in law school. Miami Law really helped me to gain a wide range of experiences to help prepare me for my career."
Havens, who previously trained lay health workers about HIV in South Africa, believes health care is an intrinsic part of social justice.
"I am a lifelong activist dedicated to working for social justice," said Havens. "I hold a vision of the world where basic human needs like going to the doctor and having access to affordable housing can be met; where race and ethnicity do not impact one's likelihood of being imprisoned; where everyone is provided with an opportunity to learn how to read and go to college. My ultimate career goal is to use my education and skillset to empower communities to make this vision a reality."