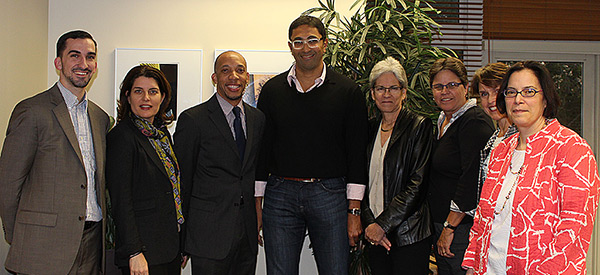 From left-to-right: Sean Maye, Elizabeth Schwartz, Professor Charlton Copeland, Professor Kunal Parker, Judge Judy Rubenstein, Rebecca Salokar, Associate Dean Raquel Matas and Associate Dean Ileana Porras. (Photo: Miami Law)
A day after six same-sex couples filed suit in Miami-Dade County for the freedom to marry, one of their lawyers and Miami Law launched a timely series of discussions that will explore the rapidly evolving implications of the 2013 U.S. Supreme Court decision overturning the 1996 Defense of Marriage Act, the 1996 law which allowed states to refuse to recognize same-sex marriages.
The seeds for the eight conversations on "Marriage Equality: Practical Implications for a Post-DOMA Landscape" that began on January 22nd and will continue over the next three months were planted by Sean Maye, a third-year law student and co-president of the law school's student LGBT organization, OUTLaw.
Curious about the growing ramifications of new state and federal laws governing same sex unions, Maye talked to friends and faculty and discovered a complicated and impervious labyrinth of conflicting laws. Out of his curiosity came a panel discussion at the law school during Diversity Week, then a proposal for a full-blown examination of the history, state of legal affairs, and the myriad of other issues tied to marriage equality, such as immigration, adoption, probate and taxes.
"From a student's perspective, the Marriage Equality course is important in understanding exactly what federal recognition of state-sanctioned gay marriages actually means," said Maye. "We learn in law school that there are myriad corners of the law that often overlap, but, when certain more contentious issues like gay marriage intersect with those different corners of the law, it is difficult to understand just what rights gay couples do and do not possess. It is my hope that this course will serve to clarify the Supreme Court's recent decisions and provide myself and other students with the information on how to counsel clients on these issues and how to conduct ourselves accordingly in our own personal lives."
The opening discussion, "Marriage and The State – A History: What Comes with the 'Status,'" and "History of LGBT Marriage Equality Movement and Internal Debate," explored the definition and historical timeline of marriage between the intersections of religion and government as well as a brief discussion of seminal and determining cases in the evolution of same-sex unions.
"The issue of same-sex marriage integrates institutions and domains of public policy with which every educated lawyer ought to be familiar – litigation, bureaucratic decision making, legislation, social movements," said Professor Charlton Copeland. "Yet it also engages law's aspirational dimension – that law can play a role in bringing about significant social change and advance the march toward greater equality – which is necessary for those preparing to enter the profession, for those in the profession, and for the profession, itself."
Associate Deans Raquel Matas and Ileana Porras joined Professors Copeland and Kunal Parker for the first panel, followed by gay and lesbian families, law expert and Associate Professor of Politics and International Relations at Florida International University, Rebecca Mae Saloka, and attorney Elizabeth Schwartz, J.D.'97.
Schwartz is one of the attorneys representing six same-sex couples constitutionally challenging Florida's law denying the legal protections and equal dignity that the freedom to marry provides filed in state court on January 21.
"I'm so proud that my alma mater has taken the step to focus a whole series of discussions on the complicated legal issues around marriage equality," said Schwartz. "It's certainly perfectly timed as the national and statewide spotlight shines on this most basic aspect of human dignity. With the stellar team from Miami Law guiding these discussions, the students and practitioners who participate in these conversations will have the opportunity to learn a great deal not just about the specific topic of marriage equality but also about how to effect social change using one's law degree."
The series explores the legal and practical implications of the recent U.S. Supreme Court decisions regarding marriage equality. The post-DOMA legal landscape is complex and raises many new and puzzling questions and problems that lawyers will be asked to address and resolve. It is intended to serve as a venue for a collaborative exploration by faculty, practitioners, judges, and students, of an important and rapidly evolving set of social and legal issues. Each session will be led by a host and co-taught by a panel comprised of academics and practitioners with subject matter expertise.
"These events are an excellent opportunity for faculty, students, and practitioners to share their knowledge, ideas and thoughts on a highly-salient legal issue that impacts so many lives in so many different ways," said Salokar. "Because marriage – in whatever its form – is such a central institution in American society, contemplating its contours, scope, and future is not just an academic exercise; it is an opportunity to anticipate real legal, social and political change."
Participants for upcoming discussions include: Judges Judith Rubenstein, Marc K. Leban, and Scott Berstein from the 11th Judicial Circuit of Florida; and attorneys Theodore H. Uno from Boies, Schiller & Flexner, LLP, and Richard C. Milstein, Akerman Senterfitt & Eidson.
The series is coordinated and sponsored by University of Miami School of Law, Miami Law's OUTLaw, Associate Dean Raquel M. Matas, Attorney Elizabeth Schwartz, Associate Dean Ileana Porras, Professor Charlton Copeland and the Miami Dade Gay and Lesbian Lawyers Association. The conversations have been made available to students for credit or audit and is open to practitioners.
OUTLaw seeks to advance the gay, lesbian, bisexual and transgender community at the University of Miami School of Law; to educate the law school community concerning gay, lesbian, bisexual and transgender politics and culture; and to provide the support necessary to attain these goals. OUTLaw sponsors social, educational, political and cultural events throughout the academic year.