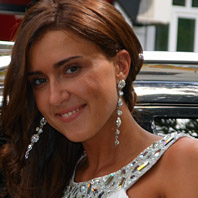 Ukrainian Liliia Iemchenko, a graduate of the Yaroslav the Wise National Law University – the top law school in Ukraine – was named the 2015 Miami Law/Young ICCA Scholar.
The scholarship was established in 2012 and is the only full-tuition scholarship to attend Miami Law's one-year postgraduate White & Case International Arbitration LL.M. Program. Miami Law partnered with the Young International Council for International Arbitration to launch this scholarship as Young ICCA is the world-wide network for young practitioners and students which promotes the international practice of arbitration and encourages them to acquire experience through relevant field research.
"When I decided to enhance my academic knowledge and know-how on international arbitration during my postgraduate studies and come up as a high-class specialist, there was no doubt that the University of Miami is an excellent place for achieving my goals," said Iemchenko. "The International Arbitration LL.M. Program at the University of Miami is probably the best one in the world."
Iemchenko obtained both Bachelor's and Master's degree with high honors at the International Law Faculty of the Yaroslav the Wise National Law University. As a student she participated in a number of study courses and events that shaped her interest in international arbitration. After graduation she started working as an in-house lawyer. She has worked on a number of cases involving litigation, as well as arbitration. She realized that arbitration was an appropriate alternative for the Ukrainian judicial system, which takes a lot of time, cost and drains morale.
To apply for the scholarship, Iemchenko wrote an essay about the ethical dimensions of the functions of international arbitral institutions.
"The teaching staff of Miami Law includes internationally renowned professors with a theoretical insight and years of practical experience, with Jan Paulsson, John H. Rooney, J. Martin Hunter, and Carolyn Lamm among them. Jan Paulsson is a world leader in international arbitration. I am deeply convinced that studying and researching under the supervision of such a faculty is a unique opportunity, which is only available at the University of Miami."
The International Arbitration LL.M. program is a 24 credit graduate program which begins in August of every year. It is a small and selective program composed of practitioners from all over the world.
The selectivity was a definite draw for Iemchenko, "Surely, when I found out that Young ICCA, together with the University of Miami, organized the essay competition, I understood that this is the only chance for me to make my dreams come true. This is a unique option for me to catapult into the field of international arbitration."