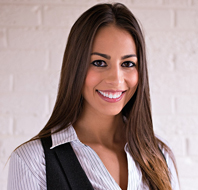 For Jessalynn Rubio, 3L, the Miami STREET LAW Program taught her how to command the attention of high school students – a challenging task, according to Rubio.
"High school students are incredibly transparent," said the Miami native. "And I truly appreciate them for that. If they're not interested in what you have to say, they're just not going to listen. You can see it on their faces."
Rubio has taught for the past two years at Law Enforcement Officers' Memorial High School in Miami, first as a STREET LAW intern, and now as a STREET LAW fellow. She creates lesson plans and teaches 10th and 11th grade students each week about different legal concepts.
"Teaching high school students has challenged me to absolutely improve my ability to command the attention of a group of listeners," said Rubio. "Thinking up engaging activities, evaluating how I'm going to move about the room when I teach a lesson, or even focusing on the way I vary my tone when presenting are all contributing factors that have influenced my experience while working with high school students over the past two years in the STREET LAW program."
Rubio, who received her degree in Marketing from Florida State University, is also a Student Ambassador at Miami Law and secretary of the Animal Legal Defense Fund. She is currently working as a law clerk in the Law Offices of Ross Abramowitz in Fort Lauderdale.
"My most memorable experience working with the STREET LAW Program was when my partner and I taught a contracts lesson," said Rubio. "Although the exercise was relatively simple, the arguments that the students were making were incredibly creative. I remember having a moment where I stopped and looked around the classroom and thought how it was so cool that every single student was engaged. It was such a gratifying moment that has stuck with me."
Rubio expects to graduate in May, 2015 and hopes to work for the State Attorney's Office in Broward County as a prosecutor after graduation.
The goal of the Miami STREET LAW program is to empower youth through interactive education about law, democracy, and human rights while furthering the professional development of law students. Students who participate in the STREET LAW program obtain course credit while teaching law to high school and middle school youths. Since STREET LAW classes use interactive teaching strategies – including mock trials, moot courts and simulated negotiations—law students can hone their communication and analytical skills while gaining exposure to other professionals and the community.