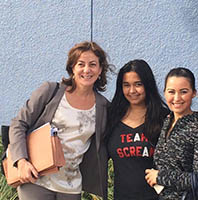 Third-year law students Diana Jordan and Bethany Bandstra successfully petitioned the Juvenile Division 11th Circuit Court of Florida on behalf of a 15-year-old girl who fled her native Honduras due to a horrific family life. The court found that the child had been abandoned and abused by her family in Honduras and that it was in the best interest and welfare of the child to stay in the United States.
The two law students, from Miami Law's Health Rights Clinic, had argued to the Florida Court that the young Honduran, Kimberlin, had been victimized by abuse, abandonment, and neglect and returning to Honduras would put her at risk. Kimberlin was the victim of violence and lived under the constant threat of further abuse from which neither her family nor her society protected her.
The court, by finding Kimberlin dependent, takes the first and most important step in the process of gaining Lawful Permanent Resident status. "Diana and Bethany's sensitivity in dealing with this girl, and their tenacity in pursing her legal interests, made all the difference in the prompt, happy outcome here," said JoNel Newman, director of the clinic.
Shy and small in stature, Kimberlin made the perilous journey alone from one of the most dangerous cities in the world to the United States and was detained in Nogales, Texas by immigration officials on April 18. She was released to the custody of her aunt, Leidin Cubiallas, in Miami on May 15 but remains in deportation proceedings.
Cubiallas brought the child to the University of Miami's Miller School of Medicine's Pediatric Mobile Clinic to secure vaccinations so Kimberlin could attend school. There, they were introduced to Miami Law students and attorneys from the Health Rights Clinic who have been providing legal services to vulnerable immigrant populations since last year at the mobile clinic through a Medical Legal Partnership.
The Health Rights Clinic agreed to undertake representation of Kimberlin in both immigration and state court proceedings. "Working with Kimberlin and her family has really been eye-opening," said Jordan, who was the primary representative of Kimberlin and her aunt. "I had no idea how extreme the situation for many children and their families is in Honduras; about the dangers they face on a day-to-day basis."
The court agreed that the child had been abused by her stepfather and her mother, and found that it is in the best interest of the child to remain in the U.S. with her aunt. Kimberlin is presently attending high school in Miami and studying English.
"We are so grateful to the Health Rights Clinic for taking our case," said Cubiallas. "I had no idea where to turn, or how to help Kimberlin." Based on the favorable outcome in the state juvenile court, the Health Rights Clinic will ask the immigration court to dismiss her deportation proceeding when she is scheduled to appear next March.
"One of the most heart wrenching aspects of these cases is that children and families have no idea what to do or where to turn when the children arrive here. There is no entitlement to legal counsel in immigration court for children who are facing deportation alone, nor are children entitled to an attorney in the Florida state dependency process," Newman said. "We were able to achieve a great result for Kimberlin because they happened to be in the right place at the right time, but there are approximately 5000 of these children who have been released by immigration officials in the state of Florida this year alone, 1500 of them in Miami-Dade County. They are all being denied access to justice by the two court systems. Only a lucky handful will be served by volunteer and pro bono attorneys or law school clinics like ours."
"Our client's reaction made me realize that lawyers, and even law students, are in a unique position to help others, regardless of the type of law we practice," said Jordan. "I hope we've changed her life for the better and that we can continue helping others like her as there is still an incredible need for attorneys to represent these children who have no right to counsel."
The budding teen hopes to become a doctor someday. At last week's hearing Kimberlin asked her aunt if it meant that they would be a family forever. With the court's ruling, she is one step closer.