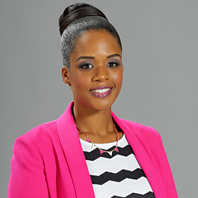 Vanessa Joseph has a huge heart. She is a smart, driven, no nonsense beauty. The triple 'Cane earned a B.A. in Political Science before tucking in to a Masters degree in Public Administration. Upon completion, Joseph determined that two degrees might not suffice for her dream career in the United Nations, so on to law school she did go.
Before starting at Miami Law, the daughter of Haitian parents taught English, mentored and tutored middle school students at Breakthrough Collaborative/Breakthrough Miami; worked as a stylist at Nordstrom; and was a marketing and digital media consultant at Fonkoze, the largest microfinance institution in Haiti catering to the poor. In 2009, she and her best friend started SAVA PR, LLC, a public relations firm catering to the Haitian community—they plan to expand into broader markets after law school.
At Miami Law, the 27-year-old's fluent French and Creole was a huge asset when she travelled with a delegation, including Miami Law's Human Rights Clinic and Immigration Clinic directors, Michelle Karshan, Executive Director of Alternative Chance, and Marleine Bastien, Executive Director of Famm Ayisyen nan Miyami (FANM), to Haiti.
In both Miami Law's Human Rights and Health Rights Clinics, Joseph has represented clients in Social Security, disability, veterans, public benefits, and immigration advocacy. "It has given me the opportunity to really dive into something in which I'm very interested," said Joseph. "A great disparity exists between Haitian immigrants and other immigrant groups in becoming United States citizens. For many Haitians, the process for becoming a citizen is increasingly arduous. There are many Haitian children and parents residing as lawful permanent residents (LPR) in the U.S. who are eligible to naturalize, but are unable to because they cannot navigate the process without culturally competent legal assistance."
At Miami Law, she believes she has found her calling—immigration law and providing culturally competent representation to the Haitian community. "It's been a great experience—researching, preparing, and writing knowledgeably on a subject," Joseph said. "It's been especially rewarding working with individual clients. Each of them has a story to tell and an idea of what they think they need. But, at the Health Rights Clinic, we figure out what else they could benefit from and help them obtain those benefits—it's like putting together the pieces of a puzzle. I've always been good talking to people and here I've honed my client counseling and interviewing skills.
"I feel well-prepared for a career in immigration law, and when I've come to a point where I feel extremely well versed, I'd like to work with the governments of Haiti and the United States to work toward solutions to the deportee crisis. It's hard to say that we will ever be able to completely stop deportations to Haiti, but I am determined to find a way to ease the conditions they face upon their return."