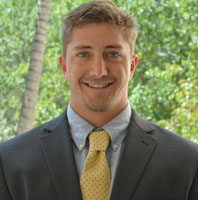 To the public eye, prosecuting doesn't always go hand in hand with the notion of public interest advocacy, but one Miami Law student is trying to change that. Ian McKenzie, one of the HOPE Public Interest Resource Center's Summer Public Interest Fellows (SPIF), spent his summer working at the State Attorney's Office. His goal was to develop his skills in litigation while maintaining his strong ethical beliefs.
HOPE's Summer Public Interest Fellowship Program is an opportunity for rising second year law students interested in advocacy to work full-time at a public interest agency for two months in the summer. In addition, students engage in a social justice course, which meets twice a week throughout the summer. In most cases, Assistant Dean Marni Lennon, director of the HOPE Public Interest Resource Center, matches a student with an agency once the student is accepted into the program, but for McKenzie that wasn't the case.
McKenzie knew he wanted to pursue litigation, and had already shadowed employees at the State Attorney's Office over winter break. He was determined to work in that office.
"I immediately loved the environment," McKenzie said. "I knew I wanted to come back."
"I was told that there was a fellowship out there, through HOPE, but at first I didn't think it applied to me because I already knew I was determined to work at the State Attorney's Office," McKenzie said. "I told Dean Lennon that the State Attorney's Office should be one of the placements because you can do a lot of good as a prosecutor. When you make good decisions and behave ethically it makes the world a better place." Dean Lennon agreed.
After graduating from the College of Charleston in South Carolina with a Bachelor's degree in Political Science and coming to the University of Miami, McKenzie knew he wanted to pursue litigation.
"I've learned so much in the almost two months that I've been there about the way the legal industry works," McKenzie said. "The biggest thing I've seen is what huge effect small decisions made by a number of people years ago have today."
Writing motions, attending depositions, and shadowing his supervising attorney have allowed McKenzie to see these effects firsthand. When the State Attorney's Office decides what to charge someone with, it's rarely a quick and simple decision, McKenzie explained. A lot of discussion goes into those decisions because they aren't only affecting the lives of those directly involved, but they can have lasting impacts on the direction the law takes.
"Any attorney, not just a pro bono attorney, has an ethical commitment to behave in a certain way every day," McKenzie said. "All attorneys are public interest attorneys. They participate in a system that has the goal of improving society one decision at a time."
McKenzie is taking these lessons to heart as he plans for his future. He wants to use his position as an attorney not only to help individuals, but to better the legal system at large one small step at a time.
"If every attorney does the best they can do on any given day, and if we call behave in an ethical manner," McKenzie said, "then we can fix a whole lot of problems instead of expecting a handful of designated public interest attorneys to fix all of the problems by themselves."