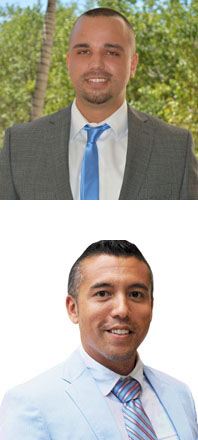 Students in law school regularly connect with their peers, their professors, and their colleagues, but one of the most undervalued relationships in law school is that between the students and the alumni.
During his time working at the U.S. Department of Homeland Security this summer, 2L Robert Pecchio learned, among other things, the value of being able to pick the brain of someone who was once where he is now.
When Pecchio decided to apply for an internship at the Department of Homeland Security as part of his Summer Public Interest Fellowship Program (SPIF), he had no idea that his boss would be not only a Miami Law alumnus, but a former Miami Scholarthrough the HOPE Public Interest Resource Center, the same center that leads the SPIF Program.
Richard Jurgens, JD' 03, has been working for the Department of Homeland Security since his 3L year. He serves as Assistant Chief Counsel in the office of the Chief Counsel for the Department of Homeland Security and as Coordinator of the Legal Intern Program, where he selects, trains, and mentors interns like Pecchio.
Throughout the summer, Pecchio assisted trial attorneys with research, prepared for hearings, and got to know Jurgens, taking advantage of his proximity to the alumnus.
"There's no substitution for speaking with someone who has been though the same school as I have, the same internship I did," Pecchio said. "Learning how [Jurgens] got to where he is and seeing how he works in his world and bouncing questions off of him, it was all invaluable."
Advice wasn't the only thing Pecchio found at the Department of Homeland Security, though.
"What I've noticed in myself is a new sensitivity to the plight of the immigrant," he said. "Regardless of whether you're on prosecution or defense, you have a responsibility to be just and sensitive to the people on the other side."
Pecchio thanks Jurgens in part for his newfound view, noting his mentor's empathy toward the people on both sides of the legal process. Looking toward the future, Pecchio hopes to maintain that sensitivity throughout his own education and his career.
"Whether it's being an advocate or giving advice or doing policy work," he said, "I would like to be involved in immigration and international relations in some capacity, helping the community at large and being socially productive."
Jurgens' and Pecchio's story is not unique. Whether in Miami, New York, Washington DC, or elsewhere around the globe, Miami Law alumni are exceptional supporters of students seeking summer and post-graduate employment.
"Soak up as much advice as you can get, and bring your skills and gifts and passions to the workplace," Pecchio said. "Meet people, get out there, and listen to the city and the community. That way, you can't fail."