We Robot participants: Katie Darling, Prof. A. Michael Froomkin, Kevin Bankston, Bill Smart, Carissima Mathen, Ian Kerr and Jason Millar
Robots in hospitals, in schools, in the air, watching you, reading your email, and even trading stocks. The robots are everywhere and becoming more and more autonomous. What new rules and policies do we need to prepare?
With yesterday's science fiction quickly becoming today's reality, more than 120 people gathered on April 4th and 5th for WeRobot 2014: Legal and Policy Issues Related to Robotics at the University of Miami Newman Alumni Center.
Audience members formed lines to ask questions on drones, domestic robots, spy robots, trading robots, and even jurisprudential robots. Do robots actually create more work for women? Can you shoot down the robot that is flying above your house? Are disabled children being helped or harmed from the use of robots in school? Is robotics the new Cyberlaw? All of these questions and more were discussed and debated by presenters and authors from a wide variety of backgrounds, from accounting to engineering to law.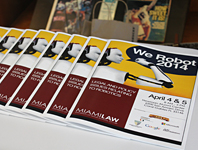 "It was our best We Robot conference yet," said Professor A. Michael Froomkin, founder of We Robot. "This year's papers — from lawyers, roboticists, ethicists, philosophers, and others -- were of top quality, and the discussants managed to be pithy, trenchant and often very funny. It was particularly nice that people from industry and academe came from Australia, China, Europe, South America, and all over the US, to participate."
It soon became apparent that the future is already here, such as when Severson & Werson Insurance Law Senior Counsel Gale Townsley said that at least one major insurer has already written at least one drone policy, or when, on the demonstration side, attendees were able to use a robotic arm from Miami to "feel" and manipulate a ball in Seattle, and see the opportunities and dangers of robotic stock and commodities trading.
This was the third annual WeRobot Conference and the second hosted by the school. This year's conference had so many paper submissions that fewer than 25% of submitted papers could be accepted. The WeRobot website robots.law.miami.edu/2014 hosts full text of all of the papers presented.
WeRobot was also streamed live online with active viewership and an online discussion on Twitter with the hashtag #WeRobot.