Human Rights Clinic students Charlotte Cassel and James Slater along with Professor Caroline Bettinger-Lopez at the entrance to the United Nations Palais des Naciones in Geneva.
Last month, Miami Law Human Rights Clinic 3L students Charlotte Cassel, Daniella Peterson, and James Slater traveled to Geneva with Professor Caroline Bettinger-Lopez, Director of the clinic, to present the Clinic's reports and recommendations on the United States' compliance with its obligations under the International Covenant on Civil and Political Rights (ICCPR) to the United Nations Human Rights Committee.
These reports focus on gun violence, domestic violence, and "Stand Your Ground" laws;continued U.S. deportations to Haiti; solitary confinement of juveniles; and the transfer of juveniles to the adult criminal system. The review took place on March 13th and 14th in Geneva, Switzerland.
In late March, the UN Human Rights Committee published its concluding observations from the session. The observations have been highly anticipated, as they include recommendations for how the United States can improve its human rights protections.
The Human Rights Clinic's fingerprints were evident throughout the Committee's Concluding Observations, which address many human rights issues, including the Clinic students' practice areas. This has significant implications for advocacy work at home, since the Clinic and other advocates can use the language of the Concluding Observations for law and policy advocacy on a variety of issues in the future.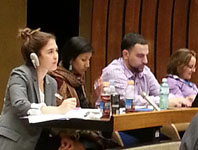 In one of the Concluding Observations—number 15, concerning immigrants—the Committee expressed concern "about the mandatory nature of the deportation of foreigners without regard to elements such as the seriousness of crimes and misdemeanors committed, the length of lawful stay in the U.S., health status, family ties and the fate of spouses and children staying behind, or the humanitarian situation in the country of destination." The Human Rights Clinic has long advocated for language concerning the humanitarian situation in the country of destination, but until now, this issue had never been addressed by the Committee.
"We worked very hard to educate the Committee about the human rights issues we are seeing in the U.S., and it is obvious from the concluding observations that the Committee shared our concerns," said Peterson, who took the lead in advocating for juvenile justice issues on behalf of the Clinic. "The work doesn't end here, though. Now we need to use the concluding observations to work with federal, state, and local governments to implement protections for juveniles and immigrants and domestic violence victims. The United Nations is a big name, but we need our communities to help us use that pressure effectively."
Cassel, who addressed Stand Your Ground Laws and the Marissa Alexander case, noted the import of the concluding observations. "It is validating to see the Human Rights Committee members specifically mention the issue of gun violence and the impact it has on minorities, women, and children. It is also very significant that an international human rights body has called upon the United States government to evaluate Stand Your Ground laws. However, despite our excitement, this is just the beginning of what must be ongoing and coordinated advocacy efforts."
Slater, who worked alongside Marleine Bastien, Executive Director of FANM/Haitian Women of Miami on the issue of deportations from the United States to post-earthquake Haiti, was equally impressed by the Committee's receptiveness to civil society participation. "In Geneva, I was pleasantly surprised to see how open the Committee was to hearing from us. I was really impressed with their interest in civil society input."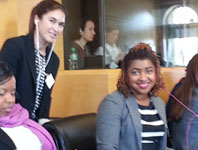 "When Committee member Walter Kaelin asked the U.S. delegation about justifications for removals to Haiti during its protracted humanitarian crisis, I wanted to stand up from my seat and cheer – an entire year's worth of work had been consolidated into this questioning of the U.S. government by the most influential United Nations treaty monitoring body. In reading the Committee's concluding observations, I was on tenterhooks to see if they made reference to my project. When I read that the Committee noted concern for deportations with regard to 'the humanitarian situation in the country of destination,' it reinforced not only the importance of my project, but also the fact that the United States needs to enact a more humane deportation policy to Haiti."
Professor Bettinger-Lopez was especially proud to see the Clinic's work reflected so clearly in the Concluding Observations. "The students began the year with lots of heart and commitment to making a difference on the world stage, but little background or knowledge of international human rights law," she said. "It is truly extraordinary to see what they have accomplished in two semesters. The enormous time and effort our students have put into these critical issues has truly had a national and international impact. They graduate in a few short weeks from Miami Law with the practical skills to advocate on any level—local or global."