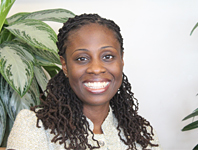 has been named to Lawyers Of Color's 50 Under 50 in the2014 Law School Diversity Issue. The listing is a comprehensive catalog of minority law professors who are making an impact in legal education.
"It is a privilege to be recognized as an influential minority law professor under 50," said James. "Academia has given me opportunities to participate in important dialogues about how identity and the law interact in the United States, and it is affirming to know that my contributions to those conversations are valued."
James writes and teaches in the areas of Education Law, Race and the Law, Administrative Law, and Torts. Some of her more recent work includes "White Like Me: The Diversity Rationale's Negative Impact on White Identity Formation," which will be published in the New York University Law Review; "Opt-Out Education: School Choice as Racial Subordination," to be published in the Iowa Law Review; "Predatory Ed: The Conflict Between Public Good and For-Profit Higher Education;" and "Dog Wags Tail: The Continuing Viability of Minority-Targeted Aid in Higher Education."
"Osamudia James is a truly gifted teacher and scholar whose leadership in the national conversation about education and race is really important," said UM School of Law Dean Patricia D. White.
James was named a co-recipient of the 2014 Derrick A. Bell, Jr. Award in January by the American Association of Law Schools Minority Groups Section. The Derrick A. Bell, Jr. Award recognizes a junior faculty member who, through activism, mentoring, colleagueship, teaching, and scholarship, has made an extraordinary contribution to legal education, the legal system, or social justice. The Award is named in honor of Professor Bell, who was the first tenured African American Law Professor at Harvard Law and a co-founder of Critical Race Theory.
"Teaching is an awesome responsibility, as it means I play an important part in shaping the way my students understand both the law and their role in our legal system," said James. "Being an educator, however, is also a joy—nothing matches the delight of witnessing students transform into attorneys, knowing that I was able to help them realize their potential as lawyers."
Lawyers Of Color(LOC) was initially founded as On Being A Black Lawyer but now also produces publications for lawyers of South Asian American, Pacific Asian American, Hispanic, and Native American heritage. LOC has been recognized by the American Bar Association, National Black Law Students Association, and National Association of Black Journalists. The company provides research, career development, and brand marketing opportunities to our clients. With a core readership of 35,000, nearly 200,000 unique blog visitors, and nearly 4,000 followers and fans, they have the largest social media presence of any minority legal organization.